Baked Figs with Goat Cheese and Bacon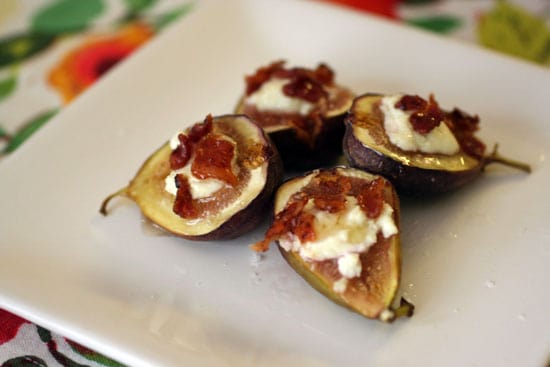 I was so happy to see figs reappear recently. It was just a year ago that I discovered this luscious fruit. For the first fig recipe this year I went simple making a fig stuffed with goat cheese, sprinkled with bacon and finished with a drizzle of honey. Simple but so good.
These Baked Figs are a wonderful starter for a summer and early fall meal. Summer feel like it is slipping away and I want to savor each day left.
You have a few more days to enter the In Home Global Cooking Party. Here is how to enter.
Sign up for Adventures In The Kitchen newsletter for one entry and leave a comment here saying What country you would chose and why?
Join me on Facebook by clicking like and leave a comment here.
Tweet about this fun contest by using the hashtag #AdvinKitchenRadio. Then let me know here that you did it below in the comment section.
Send an email to friends and family you feel might enjoy the show or this site! Copy me on the email ([email protected]). Then share that you did!
Baked Figs with Goat Cheese and Bacon
Serves 6 (2 pieces per person)
6 figs, halved
3 ounces goat cheese
3-4 slices bacon, crisp and crumble
Honey
Preheat oven to 300 degrees.
Place figs on a baking sheet. Push a small scoop of goat cheese into each fig half. Sprinkle bacon and cook for 7-10 minutes. Remove from oven and drizzle with honey.