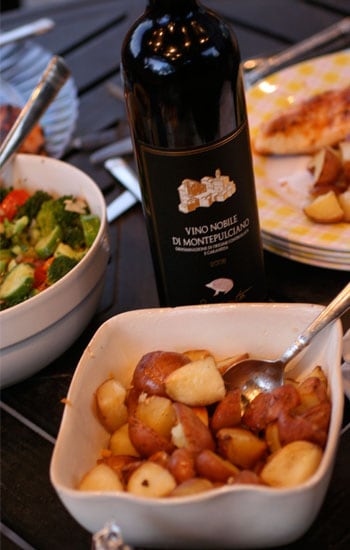 Roasted potatoes are so easy and a great side for barbecues. You put them in the oven and forget out about them until the timer goes off. I served them with this Peach Chicken at a outdoor shindig.
My first week at work was halted when I came down with some horrid virus. I don't think I have ever called in sick on day 3 of a new job! Have any of you?
Back to potatoes, one of my favorite foods. These are versatile, throw in different herbs, squeeze some lemon, play around. If there are left overs, fry them up for breakfast.
Remember to enter the weekly giveaway!
This week you can enter to win a $25 gift certificate to the Tom Kat Studios and a copy of one of Cathe Laurie's favorite books, The Hidden Art of Homemaking by Edith Schaeffer.
Sign up for my new Adventures In The Kitchen newsletter for one entry. For a second entry like my Facebook page and leave a comment here. Share "Check on the Tomkat Studio giveway and listen to Adventures In The Kitchen on KKLA 99.5" on twitter or Facebook for a third one and leave a comment.