Raspberry Almond Blondies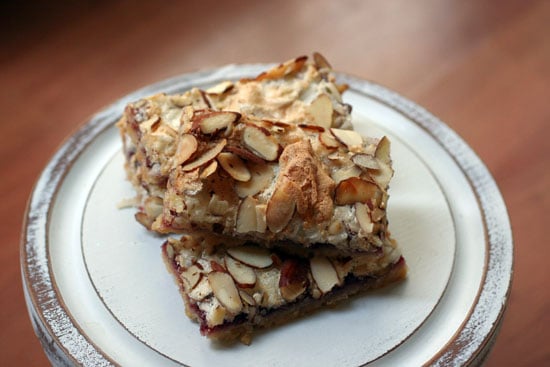 These Raspberry Almond Bars are so good, you have to try them. They are light, sweet and and a little crunchy. I brought these along with the Dark Chocolate Raspberry Cupcakes on a recent trip to the station. I won't name names but someone ate four of them while recording a commercial for the show.
I discovered these Raspberry Almond bars over at Sprinkled with Flour, a delicious blog I recently stumbled upon. There is treat after treat calling out to you. I will be trying a few of those goodies out soon.
Don't forget to enter to win a Cooking Class for up to 6 people in your home. Here is how to enter:
Comment here, sharing how you would creatively market my show to your friends and family ( I need help!)
Sign up for Adventures In The Kitchen newsletter for one entry and leave a comment here saying What country you would chose and why?
Join me on Facebook by clicking like and leave a comment here.
Tweet about this fun contest by using the hashtag #AdvinKitchenRadio. Then let me know here that you did it below in the comment section.
Send an email to friends and family you feel might enjoy the show or this site! Copy me on the email ([email protected]). Then share that you did!
Raspberry Almond Bars
3/4 cup butter, softened
3/4 cup powdered sugar, plus more for garnish
1 1/2 cups all-purpose flour
3/4 cup seedless raspberry jam
3 egg whites
6 tbsp sugar
1/2 cup flaked coconut (optional)
1 cup sliced almonds
Preheat oven to 350F. In an electric mixer, cream the butter and powdered sugar until light and fluffy. Gradually add the flour and mix well.
Press the mixture into the bottom of a greased 9 x 13 baking pan.
Bake for 18-22 minutes or until golden. Remove from oven.
Spread the raspberry preserves over the crust.
In a large bowl, beat the egg whites until soft peaks form. Gradually add the sugar, 1 tbsp at a time, on high until stiff peaks form. Gently fold in the coconut (if using) and 1/2 cup almonds. Spread the meringue evenly over the jam. Sprinkle the remaining almonds over the top. Return to oven and bake for another 18-22 minutes or until golden.