Cooking With Kids: Yummy Mummies & Spooky Brownies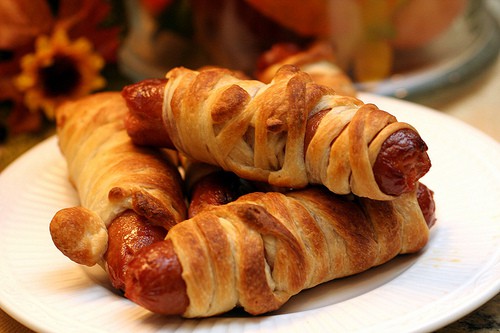 Last Friday night I wanted to do a Halloween themed cooking night with my niece and nephews. I also worked all day so I wanted it to be simple. I found the recipe for Yummy Mummies by Paula Deen on Picky Palate's blog. I love her blog.
When I told the kids the plan they said "it might be the best night ever!" I don't think it gets any better than that.
Instead of sausage we used hot dogs and had great fun in wrapping our mummies. For dessert we decorated brownies based on this recipe on Bettycrocker.com. They had so much fun. They are little artists and love to make things. It kept them busy for over an hour creating different monsters on top of the brownies. My only change would be to use a more cake like brownie. The moist brownies were a bit challenging to work with.
If you try this post a picture over on our Facebook page. I'd love to see them.
Yummy Mummy
1 package hot dogs
1 package prepared pizza dough
Ketcup and Mustard for dipping
Preheat oven to 400 degrees F. Roll out 1 package of prepared pizza dough and cut into 15 thin strips.
Starting with a completely dry  hot dog, wrap 3 strips of pizza dough around the meat in overlapping various patterns. Don't be too perfect, or it won't look like a mummy. Make sure to leave some of the hot dog visible through the strips. Place mummies on a parchment lined sheet tray and bake for 13 minutes. Serve with mustard and ketchup.
Spooky Brownies
bettycrocker.com
1 box (1 lb 2.4 oz) Betty Crocker® Original Supreme Premium brownie mix
Water, vegetable oil and egg called for on brownie mix box
Decorations
1 1/4
cups Betty Crocker® Rich & Creamy creamy white frosting (from 16 oz container)
Neon green, pink and blue food colors
16 large marshmallows
Miniature candy-coated chocolate baking bits
Betty Crocker® black decorating gel (from 0.68-oz tube)
1 roll Betty Crocker® Fruit Roll-Ups® chewy fruit snack (any red variety)
Gummy worms candies
show preparation
hide
Heat oven to 350°F (325°F for dark or nonstick pan). Grease bottom only of 8-inch or 9-inch square pan with cooking spray or shortening. Make brownies as directed on box. Cool completely, about 1 1/2 hours. Cut into 4 rows by 4 rows, making 16 brownies.
Divide frosting among 3 small microwavable bowls. Heat frosting as needed: microwave 1 bowl uncovered on High about 10 seconds until frosting can be stirred smooth. If frosting becomes too firm while decorating, microwave on High an additional 5 seconds; stir.
Decorate as directed below, using 5 or 6 brownies for each bowl of frosting.
Franken-Brownies Add 3 drops green food color to frosting in 1 bowl; mix well. Top each of 6 brownies with 1 large marshmallow. Spoon 1 tablespoon green frosting over each marshmallow to coat. Decorate with green baking bits for eyes and ears. Use black gel for mouths and centers of eyes. Cut fruit snack to use for hair.
Boo-Brownies Top each of 5 brownies with 1 large marshmallow. Spoon 1 tablespoon white frosting over each marshmallow to coat. Use black gel for eyes and mouths.
Spider Brownies Add 2 drops pink food color and 1 drop blue food color to frosting in 1 bowl; mix well. Top each of 5 brownies with 1 large marshmallow. Tuck gummy worms candies under each marshmallow for legs. Spoon 1 tablespoon purple frosting over each marshmallow to coat. Use orange baking bits for eyes. Use black gel for mouths, centers of eyes and eyebrows.
Makes 16 brownies