Thanksgiving Traditions – Chex Mix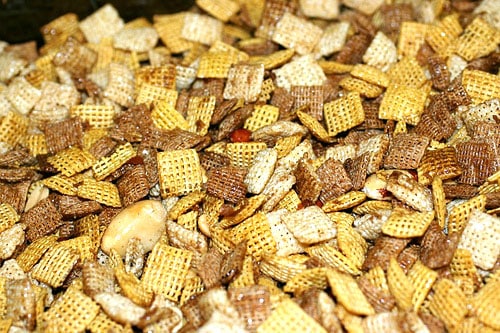 I have a passion for trying new recipes and updating recipes  but at Thanksgiving there is one tradition that never gets updated – Chex Mix. As a little girl I would get to Aunt Ginny's or my Grandparents and run to the living room to find the bowl full of Chex Mix. It is a simple pleasure.
At some point as an adult I hijacked the tradition and have been making it every since. I take my job very seriously. Over the years they have added microwaving as an option to making the mix but trust me and resist the urge to take that shortcut. Nothing beats slowly baked chex mix.
It is so easy. I make it all in the baking pan so there is little clean up. The key to great chex mix is stirring. You want to make sure every piece is coated with the seasoned butter sauce. Every 15 minutes you take it out of the oven and stir again to evenly cook the mix.
Put it in a glass jar and tie a ribbon around. You have a great hostess gift to bring to a party.
A root canal gone wrong detoured my plans for trying out a few new Thanksgiving recipes but I am already starting my Christmas baking. I made Red Velvet Cake pops that are so cute, I can't wait to share. In the meantime if you are looking for a fabulous dessert to wow your guests with try this Caramel Cranberry Tart I made last year.
Classic Chex Mix
very slightly adapted from the recipe on the box
3 cups corn chex
3 cups wheat chex
3 cups rice chex
1 cup mixed nuts
6 tablespoons butter
2 tablespoons Worcestershire Sauce
2 teaspoons Lawrys Seasoned Salt
3/4 teaspoon Garlic powder
1/2 teaspoon onion powder
Preheat oven to 250 degrees. Place butter in a large 11 x 13 (or 9 x  ) pan
Place in oven until butter has melted. Remove from oven and add the worcestershire sauce, salt and seasonings to butter and stir until blended.
Dump hex and nuts into baking pan and stir until coated. This takes a few minutes.
Bake for 60 minutes stirring every 15 minutes.