Szechwan Hoisin Honey Chicken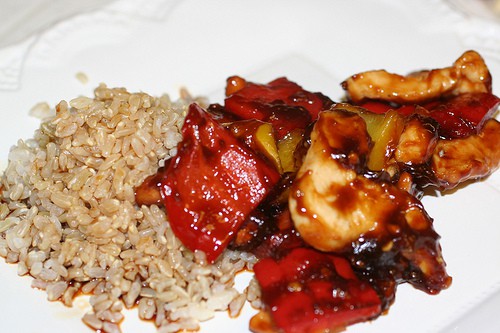 Here is another quick chicken dish that can be whipped up after dinner. I made this a few weeks ago but have taken awhile to post it. This is from the Wok Fast book by Hugh Carpenter and Teri Sandison. It has a menu of sauces that you can mix and match to create your own dish.
Any long time reader here at Adventures in the Kitchen can see that I love peppers but you can substitute other vegetables such as green beans or asparagus.
Szechwan Hoisin Honey Chicken
by Hugh Carpenter and Teri Sandison
1/4 cup chicken broth
1/4 cup dry sherry
2 tablespoons hoisin sauce
2 tablespoons honey
1 tablespoon dark sesame oil
2 teaspoons Asian chile sauce
2 teaspoons cornstarch
1 pound boneless, skinless chicken breast, cut in 1/2 cubes
1 large yellow onion
1 red bell pepper; stemmed and seeded
1 green bell pepper, stemmed and seeded
3 tablespoons canola oil
Mix ingredients from chicken broth through cornstarch in a small bowl.
Heat the oil in a wok and cook the chicken just until cooked through. Remove from pan and place on a plate. Add the vegetables and stir fry until softened slightly. Pour in the sauce and return the chicken to the pan. Cook for one minute.