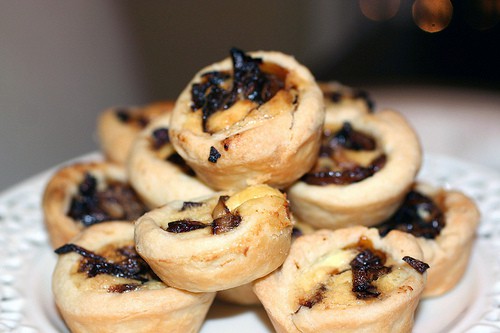 Last week I hosted a dinner for my dear friend Deanna and her husband. Twice a year, if we are lucky, we get to see them out here in California. I was reminded of how food brings people together. We share great conversations, our hopes and dreams around the table with people we love.
My hope is to do entertain more often in 2010. To learn to do it simpler and be less worried about all the details. To invite family and friends, cook up a meal and sit around. Because the meal is really the backdrop for the time spent with friends.
Here is a new little appetizer that you will love. I mixed part of recipe I saw in Farm Girls with a family cream cheese tart dough. It is one of many new cookbooks I was gifted with this season. I can't wait to try and share new recipes with you in 2010.
If you are looking for more appetizers for your New Years Eve party try the Chicken and Beef skewers or the Tomato Goat Cheese Tartlets. The Bacon Wrapped Dates have been gobbled up at every party I brought them to.
This Herb Coated Goat Cheese is flavorful with tangy lemon zest and fresh herbs. Sweet Onion Tartlets
1 cup floor
3/4 cup butter, softened
3 ounces cream cheese, softened
4 cups quartered and thinly sliced
2 teaspoons sugar
1/2 teaspoon salt
Splash of balsamic vinegar
1/3 cup heavy cream
1 large egg
Crust:
Heat the oven to 350F. Combine 1/2 cup butter, cream cheese and flour in a medium sized bowl and mix until smooth. Scoop the mixture into 24 heaping teaspoonfuls and roll into a ball. Press each ball into the bottom and up the sides of an ungreased mini-tart pan; set aside.
Cook the onions:  Heat a large skillet over medium high heat. Add the remaining 1/4 cup butter stirring until melted. Add the onions, stir in the sugar and salt. Saute over medium low heat until golden brown and caramelized – 20 minutes. Splash with the balsamic vinegar and cook a few minutes more. Divide the onion mixture evenly between the tartlet shells.
Combine the cream and egg in a glass measuring cup and whisk until smooth. Pour into the tartlets, dividing evenly. Bake until the filling and crust are golden brown – 22 to 24 minutes.
Transfer the tartlets from the baking pan to a serving plate and serve warm.