Sweet and Spicy Chicken Wings
These baked sweet and spicy chicken wings are so tasty and will fit into a clean eating diet.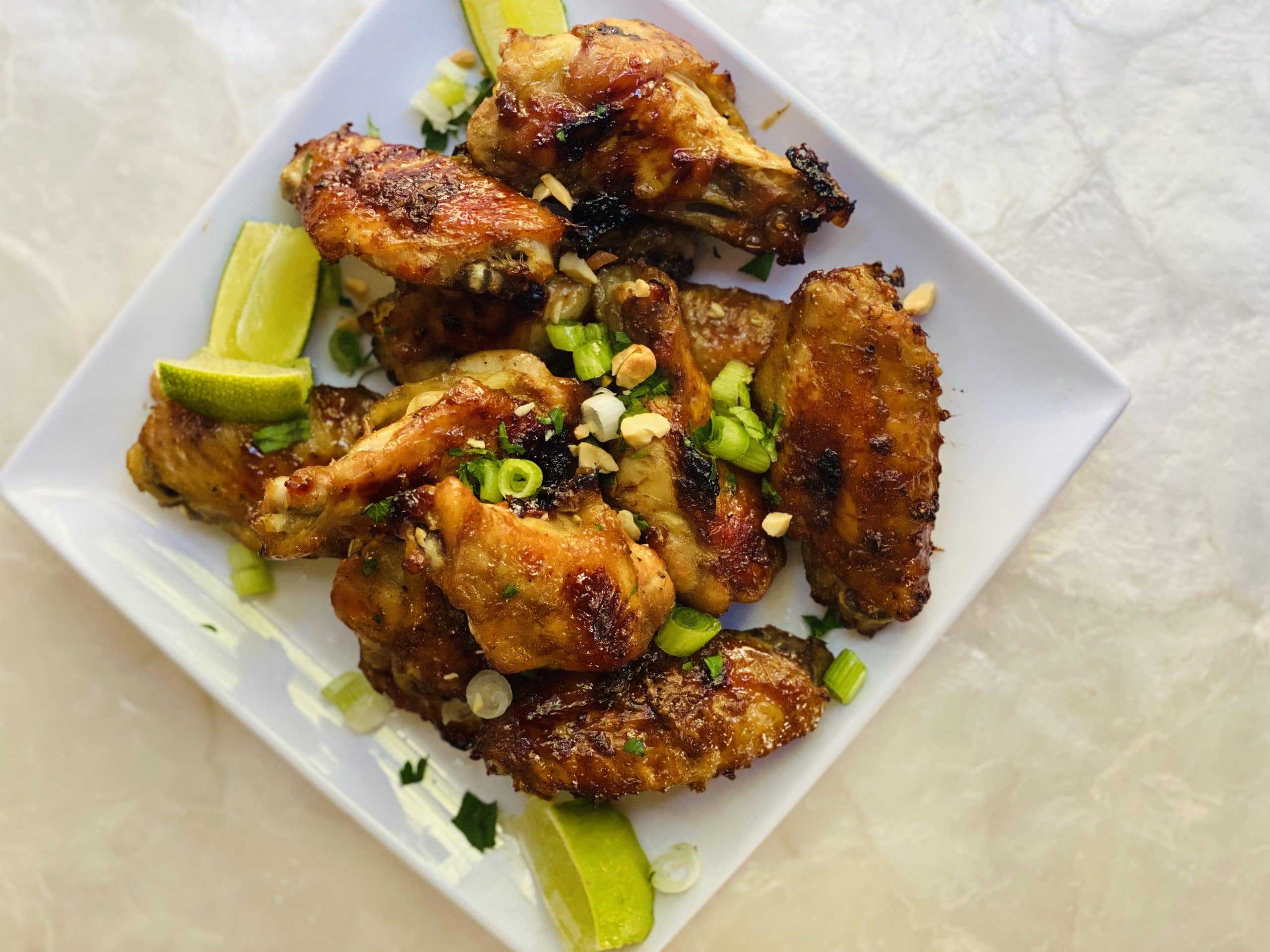 Binge-watching food can be both delicious and healthy when you make these sweet and spicy chicken wings. Not words you usually hear together. When sports return these wings will be a hit for tailgating or viewing parties.
At a launch party for my newest team member, one of the guests arrived with a crockpot of delicious chicken wings. Wings are not usually on my menu, I think it had been years! But those wings got me thinking and off to the kitchen, I went to play.
What makes great Baked Sweet and Spicy Chicken Wings
These wings are bursting with flavors like fresh garlic, ginger, and lime, perfect for a clean eating diet. There is a touch of heat with the cayenne powder. The base of all this flavor is Coconut Aminos, a great substitute for soy sauce.
You could put all of this in a slow cooker and let it cook, but I like baking the wings to get that crispy skin.
What are Coconut Aminos?
Coconut Aminos is a soy-free, gluten-free alternative. Coconut aminos are made with coconut tree sap and not from coconuts. Because of this, they don't have a strong coconut flavor. They have 73% less sodium than traditional soy sauce. They are gluten-free, non-GMO, vegan, vegetarian, and have no MSG. Coconut Aminos contains 13-17 amino acids, depending on the brand.
They are a little less salty with a touch of sweetness. You can substitute Coconut Aminos for soy in recipes.
What is Coconut Sugar?
Coconut sugar is made from nectar produced by coconut blossoms (not actual coconuts). They boil the nectar and then grind to create a granular substance with a texture similar to brown sugar. Coconut sugar has a lower glycemic index ranking than cane sugar, which tracks how foods affect blood glucose levels. Food with low GI values means that you digest and metabolize at a slower rate. This results in smaller fluctuations in blood glucose and insulin levels and reducing the risk of diseases like type 2 diabetes.
Print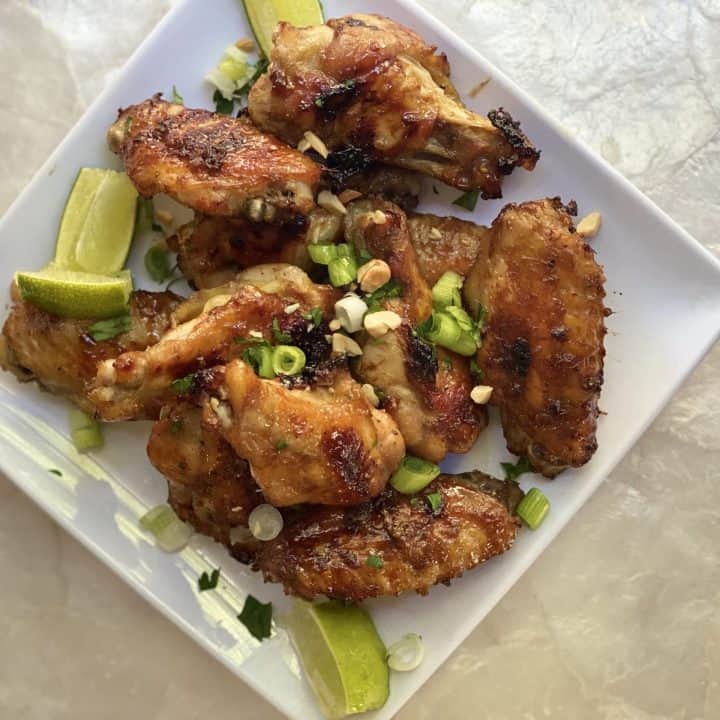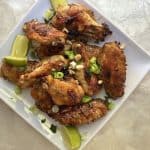 Baked Sweet and Spicy Chicken Wings
---
Total Time:

1 hour

Yield:

6

1

x
Description
Chicken wings baked in a clean sweet and spicy marinade.
---
3

pounds

chicken wings

1/4

cup

Coconut aminos

3 tablespoons

coconut sugar

1 tablespoon

grated ginger

6

cloves garlic (minced)

1/4 teaspoon

cayenne powder

1 teaspoon

lime juice

5

green onions (chopped)

1 tbsp

cilantro (chopped)

2 teaspoon

cashews (finely chopped)
---
Instructions
Rinse the wings, pat dry, season lightly with salt and pepper; put them in a large bowl or ziplock bag. In a separate bowl, whisk together the coconut aminos, coconut sugar, ginger, garlic, cayenne, lime juice, and lime zest.

Pour half of marinade over the wings and massage well. Reserve remaining marinade. Let marinate for 1 hour at room temperature or refrigerate (overnight is fine) and bring to room temperature.
Preheat the oven to 375 degrees. Arrange the wings in one layer in a low-sided baking dish or roasting pan (or use 2 pans) and place on middle shelf. Bake for 20 minutes and then flip wings over and baste with juices. Continue until well browned, glazed and cooked through, about 20 to 25 minutes.

Pile the wings on a warm platter. Sprinkle them with the cilantro, green onions, and crushed cashews. Surround with lime slices and serve.

Prep Time:

1 hour

Category:

Appetizer

Cuisine:

American