Mini Sugar Cookie Fruit Tarts
Sugar Cookie Fruit Tarts topped with creamy frosting and brightly colored fresh fruit.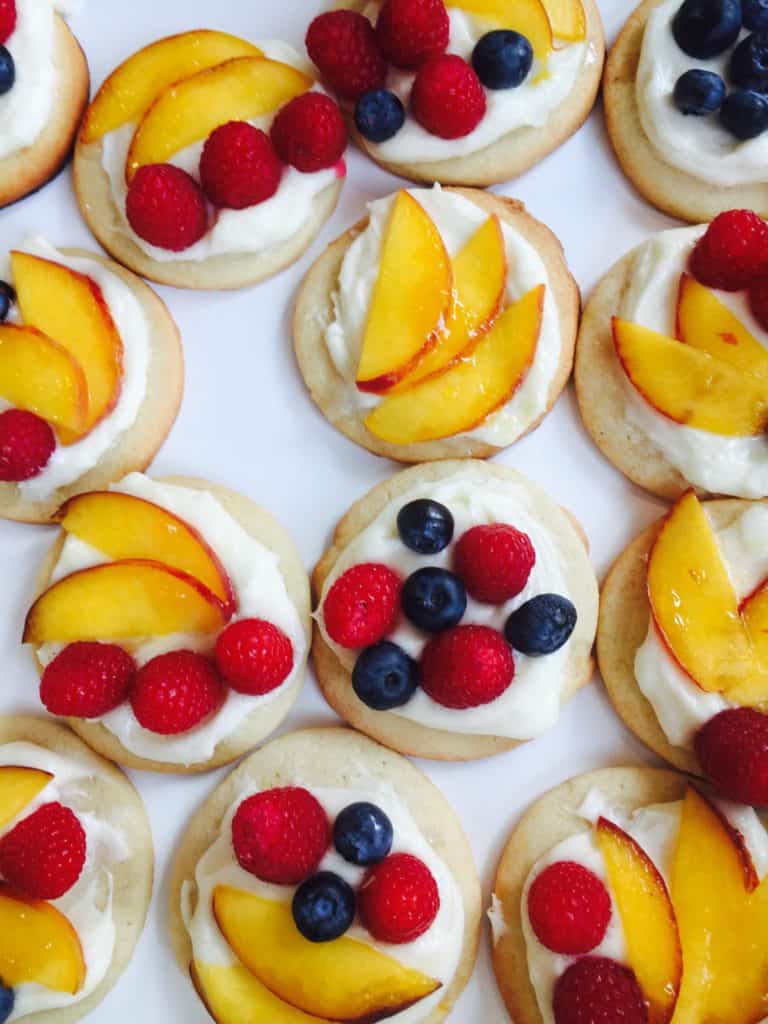 Looking for a easy but fresh dessert to serve this summer? Make a batch of these sugar cookie fruit tarts. I first made these for a fundraiser for my nephews school last year. They liked them so much that I made another batch for their first Alumni Art Show. They make a beautiful dessert platter.
Of course, cookie dough makes the base for these Sugar Cookie Fruit Tarts. I prefer to make my favorite sugar cookie dough but you could easily bake up a batch of pre-made  Cookie Dough cookies. Whip up a batch of cream cheese frosting and top with seasonal fruit. For this batch I used a mix of slices peaches, raspberries and blueberries. Strawberries and blackberries would be tasty too!
I added lime zest to the cookies and lime juice to the frosting for a little flavor. You could substitute lemon or orange if you want to vary the flavor. It is very subtle.
To make ahead, bake the cookies and cool. Whip up the frosting and refrigerate. Remove 1/2 hour before to make spread the frosting easier. Finally, place the fruit as close to serving as possible to avoid juice bleeding into the frosting.
[mv_create key="136″ title="Sugar Cookie Fruit Tarts" thumbnail="https://adventuresinthekitchen.com/wp-content/uploads/2016/06/Sugar-Cookie-Fruit-Tarts-e1464752258924-768×576.jpg" type="recipe"]