Strawberry Nectarine Crumble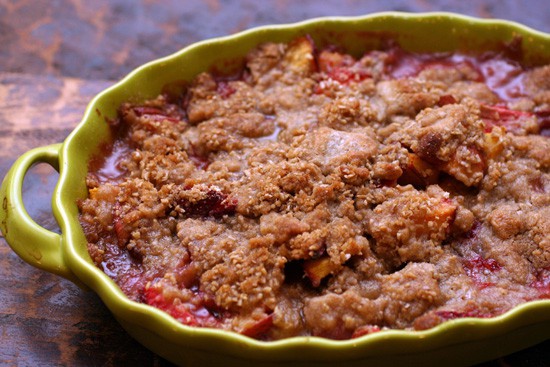 Before I share this Strawberry Nectarine Crumble with you I want to share about my weekend. I went to the most amazing conference this week. She Speaks is put on by Proverbs 31 ministries and equips writers, speakers and women in ministry. Ann Voskamp was the keynote speaker on Saturday night and talked about One Thousand Gifts, her New York Times bestseller. Both her writing and speaking are beautiful. It was a reminder to stop and be thankful no matter what are circumstances are; to find the beauty in the simplicity of our days. She dares us to live our one life well.
In the midst of hot summer days we have a bounty of fruit to be thankful for and share with those we love. A few weeks back I was house sitting for my brother and invited a few friends to join me for a barbecue. It was a beautiful night so we ate outside, lingering in the warmth of the summer evening. These are some of my dearest friends and I am always so thankful for friends to share life with. We ended the evening with a Strawberry Nectarine Crumble  made with fruit from the local farmers market. I served it with a scoop of vanilla ice cream.
Don't forget that this Sunday Adventures In The Kitchen makes its radio debut on KKLA at 4 pm. If you are in the Southern California area I hope you will tune in and share with your friends. Tuesday I am launching a giveaway to celebrate. See you then!
Strawberry Nectarine Crumble
2 cups strawberries, tops removed and sliced
2 cups nectarines, sliced ( peel if desired)
2 teaspoons grated lemon zest
2 tablespoons freshly squeezed lemon juice
1/2 cup granulated sugar
1/2 cup brown sugar
1/3 cup all-purpose flour
1/3 cup dark brown sugar, packed
1/4 cup suar
1/4 teaspoon kosher salt
1/2  cup (1 stick) cold unsalted butter, diced
1 cup flour
1/2 cup quick-cooking rolled oats (not instant)
1/4 teaspoon cinnamon
1/2 cup sliced almonds, plus extra for sprinkling
Preheat oven to 375 degrees.
In a large bowl, gently toss together strawberries and nectarines, sugars, lemon zest, lemon juice and flour; set aside.
In a separate large bowl, combine flour, oats, almonds, brown sugar and cinnamon. Cut in butter until crumbly.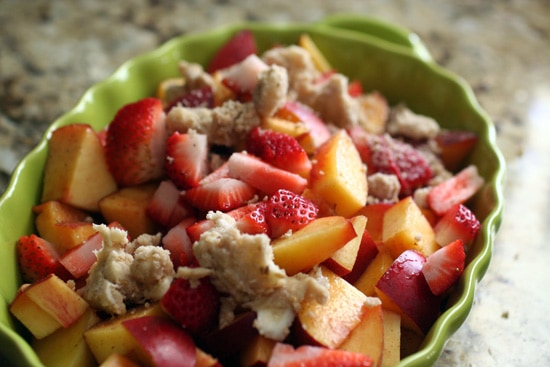 Place the berries in a 10×13 pan. Sprinkle remaining crumble mixture over the berries.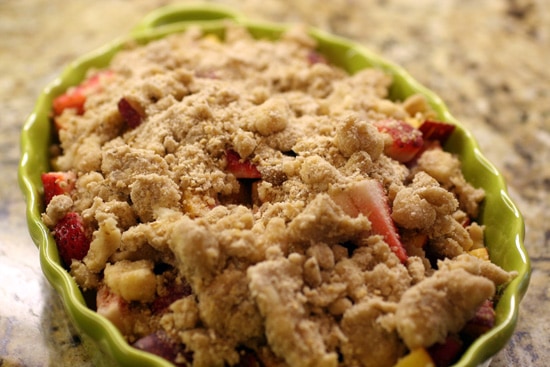 Bake in the preheated oven for 30 to 40 minutes, or until fruit is bubbly and topping is golden brown.