Strawberries and Cream Pavlova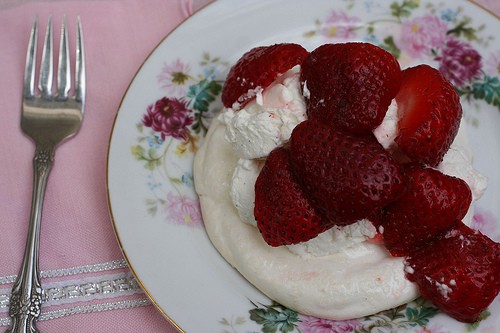 It was not my normal Easter. For the first time ever, I was too sick to join my family's celebration. Then while at home I had the joy of a rolling with a big jolt earthquake. Turned out to be a 7.2 in Mexicali and a good reminder to start working on that earthquake kit.
My family however, enjoyed the Strawberry Pavlova I made the day before. This is one of my favorite desserts to make. I first saw this in O's magazine and pulled out the recipe. The picture was beautiful. The crunchiness of the meringue and the tang of the strawberries make for a beautiful dessert.
Strawberry Pavlova
Adapted from Oprah.com
1 1/2 cups granulated sugar
2 tablespoons cornstarch
8 large egg whites , at room temperature
Pinch of salt
4 teaspoons champagne vinegar
1 teaspoon vanilla extract
2 pounds strawberries , hulled and halved
3/4 cup confectioners' sugar
Zest and juice of 2 limes
2 cups heavy cream
Seeds scraped from 1/4 vanilla bean
Directions
Preheat oven to 250°. Line two baking sheets with parchment paper. In a bowl, combine 3 tablespoons of the granulated sugar with the cornstarch; set aside.
Using an electric mixer with whisk attachment, beat egg whites, cream of tartar, salt until peaks begin to form. Add remaining granulated sugar 2 tablespoons at a time, beating well between additions. Beat in the cornstarch mixture. Add vinegar and vanilla extract; beat 1 minute, or until meringue is glossy and stands in peaks.
Form 12 meringue shells by spooning six 3″ mounds onto each baking sheet. Using the back of a spoon, make a well in the center of each mound.
Place in oven and reduce temperature to 200°. Bake until meringues are firm and begin to color, about 2 hours. (They will be dry on the outside and chewy in the center.) Cool on baking sheets set on wire racks.
Meanwhile, combine strawberries, 6 tablespoons of the confectioners' sugar and lime zest and juice in a bowl. Set aside to macerate 2 hours, stirring occasionally.
In a large bowl, beat heavy cream, 3 tablespoons of the confectioners' sugar and vanilla seeds until stiff.
To assemble, spoon whipped cream into meringues. Spoon strawberries over the cream. Dust with remaining confectioners' sugar and serve.