Special K Cookies – Family Recipes

Special K cookies were part of my early adventures in the kitchen. I remember both my mom and my grandmother making them and getting to help. It is a comfort cookie bringing back memories of my childhood.
Over the years we tried to dress them up with chocolate chips or nuts but the original version was always my favorite. At my grandmother's funeral, I brought a batch for my family to eat as we shared memories. I sent my aunt off to a new home in Arizona with a batch. That is what I love about family, food, and traditions.
A couple of weeks ago I made up a batch of them for the first time since that day. I brought them over to my niece and nephew not sure that they would like them. Well, I was wrong, they loved them. Go ahead, make a batch for your family and see what they think.
I also love to use Special K cereal in Special K Biscotti, perfect for dipping in your coffee for a mid-afternoon pick-up!
Ingredients Needed
All-purpose flour
Baking powder
Salt
Butter
Sugar
Vanilla
Egg
Special K cereal
How to Make Special K Cookies
These are 15 minute cookies. You just mix together the butter, sugar and vanilla together. Beat in egg.
Place one cup of special k cereal into a plastic bag and crush with your hands or a rolling pin!
In a separate bowl mix dry ingredients together. Then add the dry ingredients to the butter mixture along with 2 cups of Special K.
Roll into 1 tsp balls and roll the balls into remaining crushed Special K cereal. Place on a cookie sheet lined with a Silpat or parchment paper.
Place in oven and bake until golden brown 6-10 minutes.
Special K Cookie Variations:
These cookies are a great base for other add-ons. Try one or mix them together:
Add 1 cup chocolate chips
Add 1 cup pecans
Stir in 1/2 cup dried cherries & 1/2 cup dark chocolate chips.
Print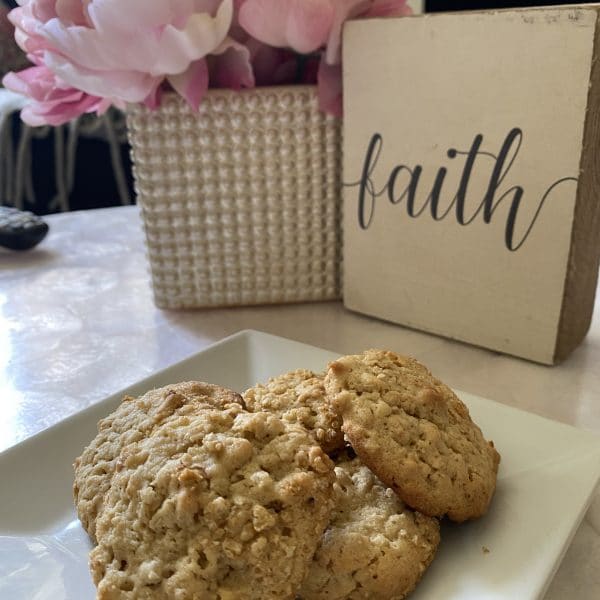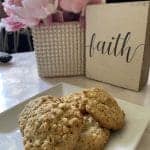 Special K Cookies
Author:

Cheri

Prep Time:

10 minutes

Cook Time:

12 minutes

Total Time:

22 minutes

Yield:

2 dozen

Category:

Cookies

Cuisine:

American
---
Instructions
1. Crush the 3 cups of cereal to 2 cups.

2. Stir together 1 cup of the crushed KELLOGG'S SPECIAL K cereal, flour, baking powder and salt. Set aside.

3. In large mixing bowl, beat margarine and sugar until light and fluffy. Add egg and vanilla. Beat well. Add flour mixture. Mix until well combined.

4. Portion dough using rounded measuring teaspoon. Shape into balls. Roll in the remaining 1 cup crushed cereal. Place about 2 inches apart on ungreased baking sheets.

5. Bake at 375° F for 10 minutes or until lightly browned. Remove immediately from baking sheets. Cool on wire racks.
---