Southwestern Corn and Bacon Stuffing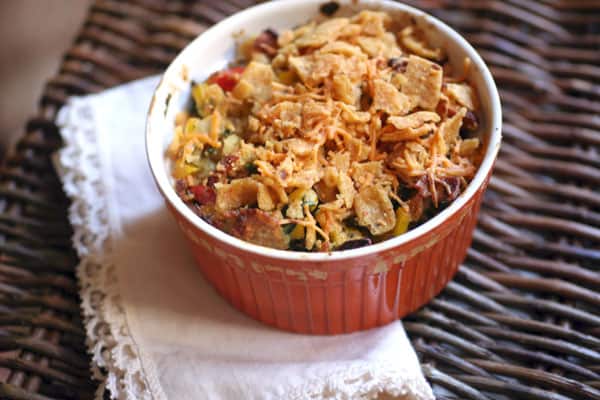 I spent the weekend in beautiful Napa. It was a weekend of delicious food,  film and wine! I can't wait to share about my trip but that will have to wait. I do have to say Bottega is my new favorite restaurant. But more about that later. Today we are talking Thanksgiving.
Thanksgiving is next week so it is time to whip out some side dish ideas. While the turkey is the main course the side dishes really add to the meal. This Southwestern Corn Dressing is a perennial favoite that I love to serve, especially with a spicier turkey.
The dressing has layers of corn flavors and then several types of peppers including poblano, jalapeno and red peppers.
This time I added crumbled smoked apple bacon which paired perfectly with the corn.
You can make it in a big casserole dish or bake in individual souffle dishes.
Each bite is bold, crisp and just a little spicy! If you try it out for Thanksgiving, let me know in the comments below!
Southwestern Corn and Bacon Stuffing
adapted from Bon Appetit/November 1994
Buttermilk cornbread
4 slices  smoked applewood bacon
4 tablespoons (3/4 stick) butter
1 1/2 cups chopped onions
1 1/2 cups chopped red bell peppers
4 large poblano chilies, stemmed, seeded, chopped
3 large jalapeño chilies, stemmed, seeded, chopped
1/4 cup chopped fresh sage or 4 teaspoons dried rubbed sage
1 1/2 tablespoons dried oregano
3/4 cup chopped fresh cilantro
1 1/2 cups crushed corn chips (such as Fritos)
1 1/2 cups frozen corn kernels, thawed
3 large eggs, beaten to blend
1 1/4 cups (about) canned cream-style corn
Preheat oven to 325°F. Cut corn bread into 4 equal pieces. Crumble 3 pieces onto large baking sheet (reserve remaining piece for another use). Bake until slightly dry, about 20 minutes. Transfer to very large bowl.
Cook bacon in a large skillet until crisp. Remove bacon onto a paper towel and drain all but one tablespoon of the bacon drippings. Add butter and melt butter  over medium-high heat. Add onions, bell peppers, all chilies, sage and oregano and sauté until vegetables are tender, about 10 minutes. Transfer to bowl with corn bread. Mix in bacon, cilantro, corn chips and corn kernels. Season to taste with salt and pepper. (Can be prepared 1 day ahead. Cover and refrigerate.) Mix eggs into stuffing.
Preheat oven to 325°F. Butter 13x9x2-inch baking dish. Mix in 1 1/4 cups cream-style corn into stuffing. Transfer to prepared dish. Cover with buttered foil and bake until heated through, about 45 minutes. Uncover and bake until beginning to brown, about 20 minutes.