Skinny Kale and Bacon Mac and Cheese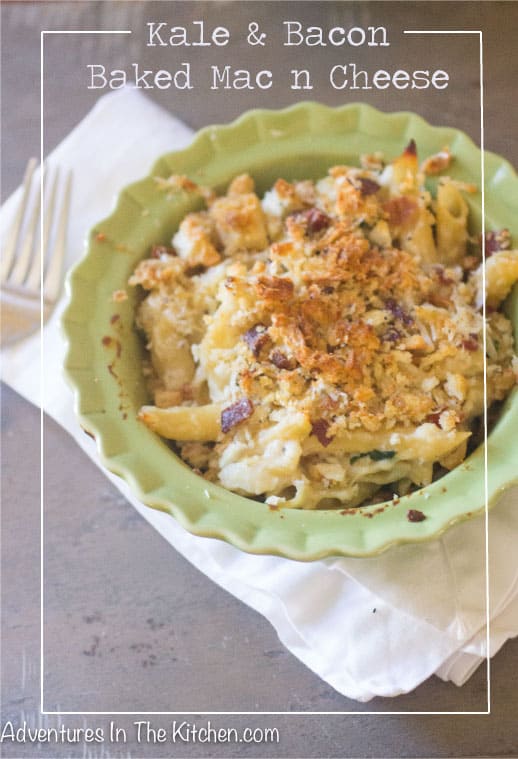 The last few months I have finally been able to attend the Foodbloggers of LA meetings. They have a solid and quite large group of bloggers. It has been fun to meet some of the other local bloggers who share my love of food.
This month the theme was Kalepalooza so I made Skinny White Cheddar Kale and Bacon Mac and Cheese. I reduced the original recipe of 623 calories and 27.8 grams of fat to 380 calories and 11.7 grams of fat (Calorie Count.com)
Priscilla of She's Cookin hosted a Kalepalooza meeting. We had Chef Garrett Nishimori from Cut `n Clean Greens
give us a demonstration on kale. We learned about Cut N Clean and the values of the company. I love learning more about the local growers.
Saturday morning was crazy. I was up at 6 am to help my sister-in-law with Olivia's 9th birthday breakfast. She had a sleepover and they were so cute! She made a cinnamon roll cake and had bright rink icing with sprinkles. I took the printables I made for the Good Morning Breakfast and tweaked them a bit.
I ran home to make the mac and cheese and that is where it got crazy. I accidentally started a grease fire. Crazy! That was a few intense moments. All is ok, but I was shaking for several hours!
I set out to healthify this dish and it was very satisfying. Here is what I did:
Substitute whole grain penne for the macaroni
Reduce the butter
Substitute fat free milk for whole milk
Reduced bacon
Increased kale
This month I have begun making the change from regular pasta to whole wheat or multi grain and have been extremely satisfied with the taste. It increases your fiber intake which is great for your waistline. It also provides protein, magnesium, minerals and antioxidants. Cooking Light has an article highlighting all the benefits.
This is a great way to add kale to your families diet. The kids will never know.
For more Skinny recipes visit Skinny Chick Recipes.
[mv_create key="66″ title="Skinny Kale and Bacon Mac and Cheese" thumbnail="https://adventuresinthekitchen.com/wp-content/uploads/2014/04/Skinny-Kale-Mac-N-Cheese-1-of-1.jpg" type="recipe"]