Savor Sunday #1: Pecan Oat Crusted French Toast with Apples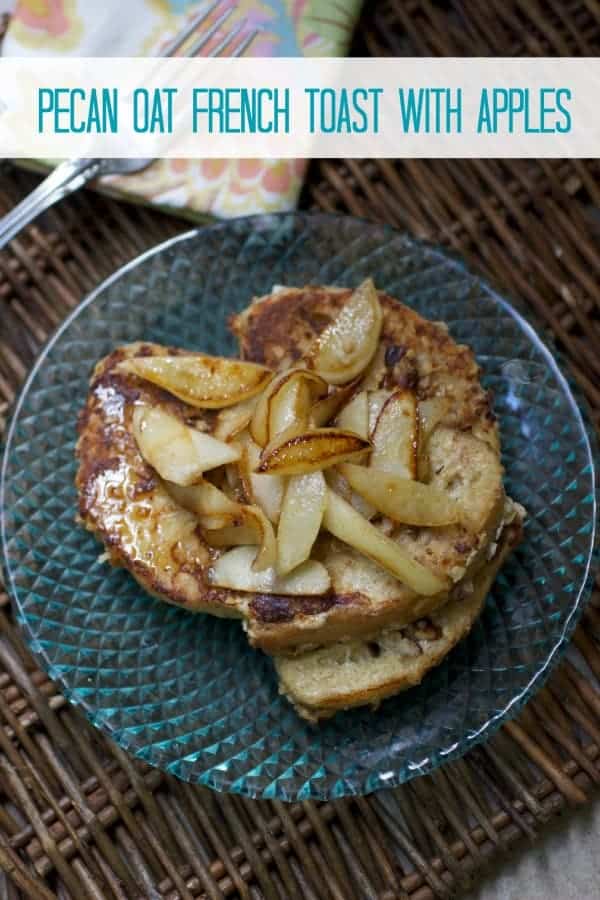 Breakfast is for weekends. Lazy mornings, time to reflect, and hang out. It's where we hopefully have time to catch our breath and enjoy some downtime. This Pecan Oat Crusted French Toast recipe with Apples is a great way to use up bread you have leftover from the week. It is crunchy and sweet.
Savor Sunday's is a part of my Savor 2014. I am trying to enjoy the sabbath, to have a day of rest each week. Running a small business can be 24/7 if you let it. Our bodies need to refuel. Pastor Rick talked about the benefits of these in this message on Going From Stressed to Blessed. I want to enjoy the day, go to church, spend time with friends and family, and savor the moments. I want to refuel my creativity by going to museums, taking walks, and reading books that feed my soul.
Savoring breakfast is a good way to set the tone for the day. It can be soothing to stand and cook while sipping coffee. Sometime's I play my favorite music but most of the time I cook in silence, savoring the quiet.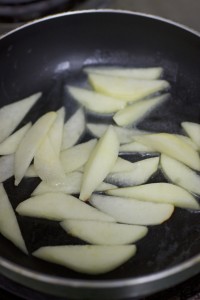 This french toast is coated with oats and pecans. The combination gives the french toast a nutty, crunchy coating. I sauté a few apples I thinly sliced and sprinkled with sugar and cinnamon. The kitchen fills with the sweet-spicy aroma of baked apples.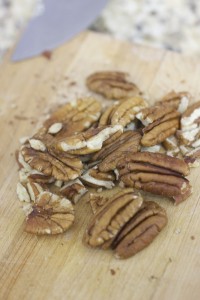 Chop the pecans.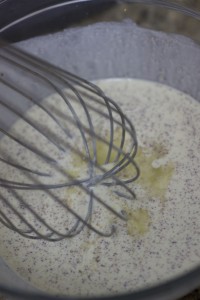 Mix together the batter. I grated a little nutmeg over the batter and sprinkle a pinch of cardamon.
The final touch is a drizzle of maple syrup.
This recipe will feed 4 people. Cut the recipe in half for two or one. If you are making for yourself, cook all four and freeze two for later.
Do you try and relax on Sunday or take one day a week to refuel? I'd love to hear how you do it. Share in the comments below.
Print
Savor Sunday #1: Pecan Oat Crusted French Toast with Apples
---
2

eggs

2/3

cup

low-fat

1

easpoon vanilla

1/4 teaspoon

cardamom
Grate a little nutmeg over the batter

1

cup

oatmeal (I used Quaker Oats)

1

cup

pecans

8

thick slices of french bread*

2 tablespoons

butter

2

apples (thinly sliced)

2 teaspoons

brown sugar

1/2 teaspoon

cinnamon
---
Instructions
Whisk the eggs, milk, vanilla, cinnamon, cardamom and nutmeg. together in a bowl.  Then mix the oats and pecans on a plate.  Heat a large saucepan or griddle and coat with a little butter or oil.  Dip both sides of each bread slice in the egg mixture and then coat them with oats & pecans. Cook until browned and then flip over, about a minute or two per side.
In a large skillet or saucepan, melt butter over medium heat; add apples. Sprinkle with sugar and cinnamon. Cook, stirring constantly, until apples are almost tender, about 6 to 7 minutes.
Serve with two pieces of french toast, topped with apples. Drizzle with maple syrup.