Roasted Tomatoes, Corn & Burrata Fettucine Recipe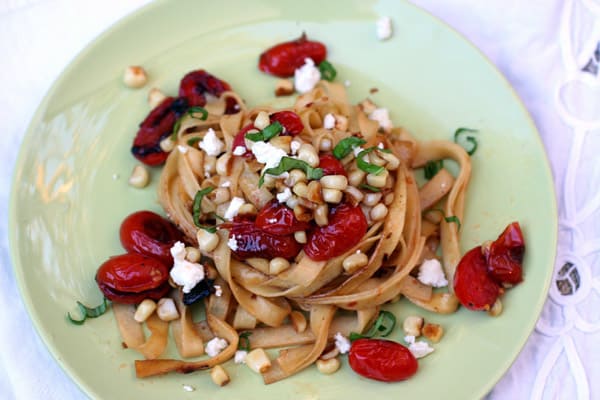 Slow roasted tomatoes taste like candy. As they cook they sweeten and I can just pop a few in my mouth after they cool. We have had a pleasantly cool fall for Southern California and this Roasted Tomatoes, Corn and Burrata Cheese Fettucine is a perfect way to use the end of season corn and tomatoes.
It is quick to make. You can even roast the tomatoes a day ahead and store in a container in the refrigerator. I sometimes make more so I can throw in dishes throughout the week.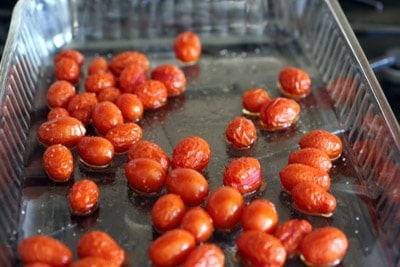 The burrata cheese adds a creaminess to the pasta and I sometimes spice it up with a few red pepper flakes sauteed in with the corn.
Don't forget to tune in to Adventures In The Kitchen this Sunday on KKLA 99.5. Today is the last chance to enter in the give away for Kathi Lipp's book The What's For Dinner Solution.
Leave a cooking question you'd like answered on an upcoming show.
Roasted Tomatoes, Corn and Burrata Cheese Fettucine
1 pint grape or cherry tomatoes
2 cloves garlic, finely chopped
3 tablespoons olive oil, 1 set aside
salt and pepper
1 cup fresh corn (frozen can be substituted)
6 ounces burrata cheese
1/4 cup fresh basil
1 pound fettucine
1/4 cup fresh parmesan cheese (optional)
Preheat oven to 250.
Place tomatoes and garlic in a baking dish and toss with olive oil. Start with one tablespoon and then sprinkle with salt and pepper. Toss well to make sure they are evenly coated.
Bake for 1 hour or until they are tender and started to caramelize.
Cook fettucine to al dente.
In a sauce pan heat one tablespoon of olive oil and saute the corn. Add the fettucine, roasted tomatoes and garlic. Toss to coat the noodles. Sprinkle the burrata cheese over and cook for 2 minutes to melt slightly. Place on dish and sprinkle basil over the top.