Recipe: Grilled Cherry Almond Brie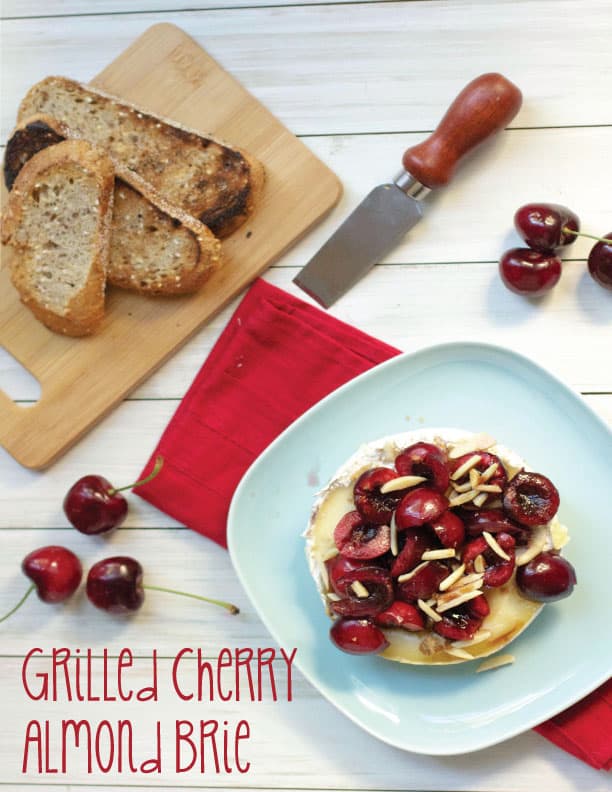 This Grilled Cherry Almond Brie might be my new favorite summer appetizer. You have to try this if you are a cherry lover. I am, maybe because kids growing up and my niece and nephews call me Cherry Berry. They just can't help it!
Cherries are everywhere right now. I probably ate a cup of cherries fresh while making this dish. I can't wait to make this for a party this weekend!
I've been trying to figure out what to bring to my reunion tomorrow. What is your favorite potluck meal? What favorite recipe do you bring out for events like that? Would love your suggestions! I'm thinking of lasagna, but I've changed my mind a few times now!
I have a confession to make I have gone to a reunion before. My school was sold after I graduated and no one really had official reunions. Plus I was the wild child, rebel Preacher's Kid who left with a bang. I am going to see people I have not seen in 30 years. Any tips for me? What do I need to know? I am a little afraid but also excited to see everyone.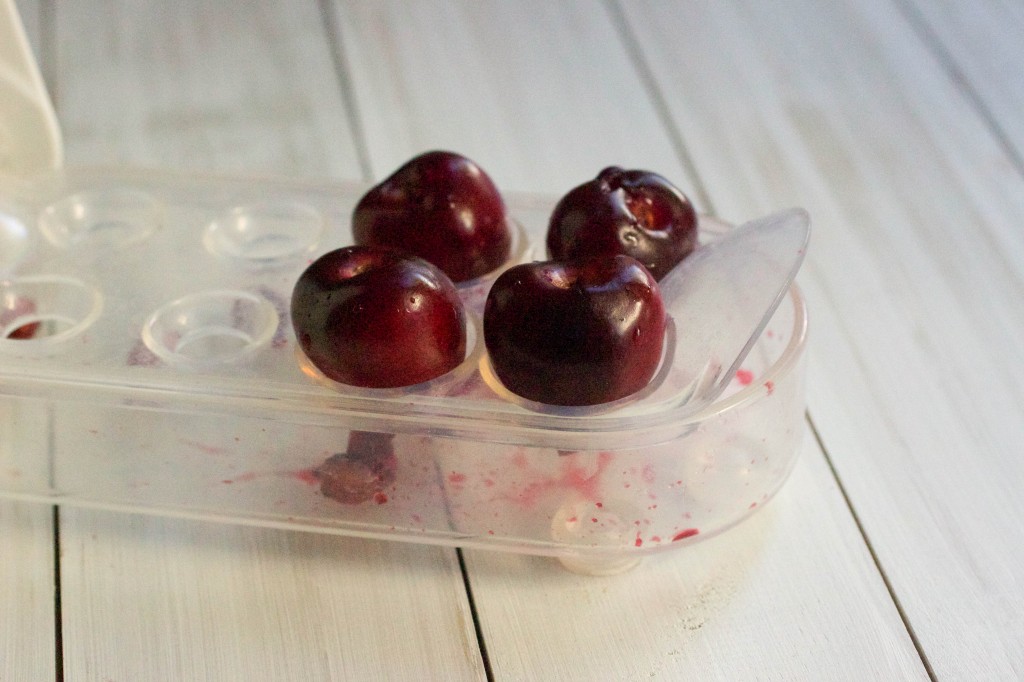 Do you have a cherry pitter? They are life changing. I have one that you plop four in at a time and push down. When you pull it back up there are four cherries pits removed and all the juices contained neatly below.
But back to this delicious Grilled Cherry Almond Brie. The creamy brie mixed with the sweet cherries and crunchy almonds…oh my goodness! I think pairing it with crunchy whole grain bread makes it healthy, that is what I try to tell myself. I recently found this cherry balsamic vinegar at Whole Foods and I have been using it in salads. A little splash mixed with the brown sugar kicked up the flavors.
It is so easy to make, place the brie on foil, top with cherries, sugar, vinegar and salt. Wrap up and place on grill. How is easy is that?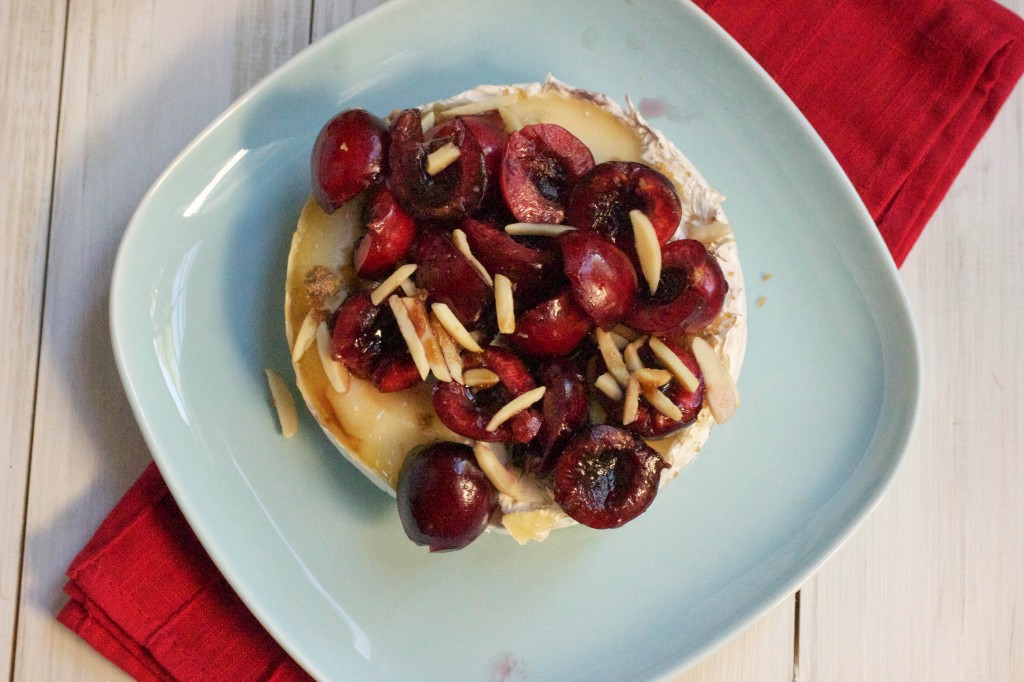 Wouldn't it look pretty at a Fourth of July party? What are your plans for the weekend? I'll be back Monday with a reunion recap.
Here are a few other cherry recipes from some of my local blogger friends:
Yield: 4 to 6 servings
Grilled Cherry Almond Brie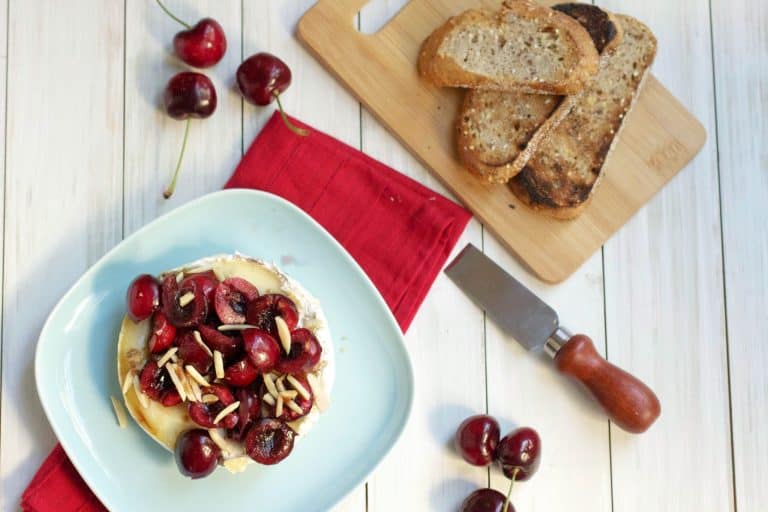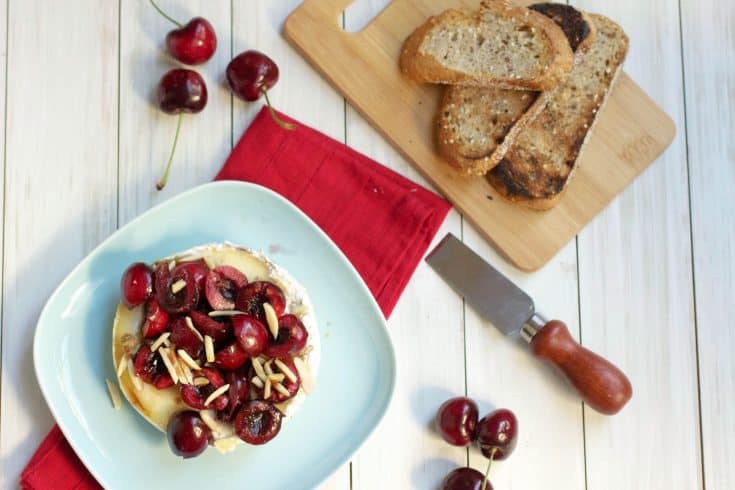 Ingredients
8 ounces brie, top rind removed
1/2 to 1 cup cherries, pitted and halved
1 tablespoon brown sugar
1 to 2 tablespoons cherry balsamic vinegar
Pinch of salt
Whole grain bread, sliced
Instructions
Place brie on a square of foil. Place cherries on top and sprinkle with brown sugar, vinegar and salt.
Close up the foil to create a packet to place on the grill.
Place packet on grill and cook 5 to 7 minutes. Brush bread with olive oil and place on grill. Watch carefully and turn when they start to brown. Remove to a plate.
Remove packet from grill and carefully open up the foil. Use a spatula to move brie to a platter. Place bread around and serve.
Notes
Substitute balsamic vinegar in place of cherry balsamic vinegar. Also, substitute your favorite bread.
Nutrition Information:
Yield:
4
Serving Size:
1 grams
Amount Per Serving:
Unsaturated Fat:

0g