Pumpkin Cupcakes with Maple Cream Cheese Frosting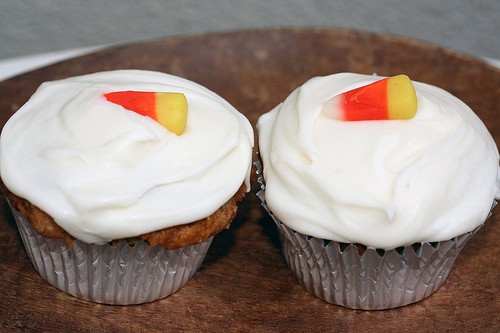 After spending days cooking with apples I thought it was time to move on to another fall treat, the pumpkin. I was looking at one Pumpkin Cupcake recipe until I saw this one at the Smitten Kitchen. I was over there checking out the latest cute pictures of her son. The Maple Cream Cheese Frosting sounds like a delicious addition boost the flavor.
These cupcakes are deceptively light with the perfect spice kick to them. Thankfully I had a volunteer meeting to quickly take these to and more importantly away from my house.

Pumpkin Cupcakes With Maple-Cream Cheese Frosting
Smitten Kitchen adapted from David Leite
17 to 18 cupcakes
1 stick unsalted butter, room temperature
1 cup firmly packed dark brown sugar
1/3 cup sugar
2 cups cake flour
2 teaspoons baking powder
1 teaspoon baking soda
1 teaspoon ground cinnamon
1 teaspoon ground ginger
1/2 teaspoon ground nutmeg
1/8 teaspoon ground cloves
1/2 teaspoon salt
1/4 teaspoon freshly ground black pepper
2 large eggs
1/2 cup buttermilk mixed with 1 teaspoon vanilla
1 1/4 cups canned solid-pack pumpkin
Frosting
Two (8-ounce) packages cream cheese, softened
1 stick unsalted butter, room temperature
2 cups confectioners sugar
1/4 cup pure maple syrup
Make the cupcakes:?Preheat the oven to 350° (175°C). Line a cupcake pan with 18 liners.
In a stand mixer, beat the butter and sugars on medium speed until fluffy, about 5 minutes. Meanwhile, sift the flour, baking powder, baking soda, cinnamon, ginger, nutmeg, cloves, salt, and pepper into a medium bowl.
Add the eggs 1 at a time to the mixer, scraping down the sides after each addition. Alternate adding the flour and milk mixtures, beginning and ending with the flour. Beat in the pumpkin until smooth. Scoop the batter among the cupcake liners — you're looking to get them 3/4 full. Rap the filled pans once on the counter to release any air bubbles. Bake the cakes until a toothpick inserted into the center comes out clean, about 20 to 25 minutes. Cool the cupcakes on racks completely.
Make the frosting:
In a stand mixer beat all the ingredients on medium until fluffy. To assemble the cake, frost the top of one cake, place the other cake on top. Frost the sides and top, swirling decoratively. Refrigerate the cake for 30 minutes to set up frosting