Pretzel Chicken with Mustard Dressing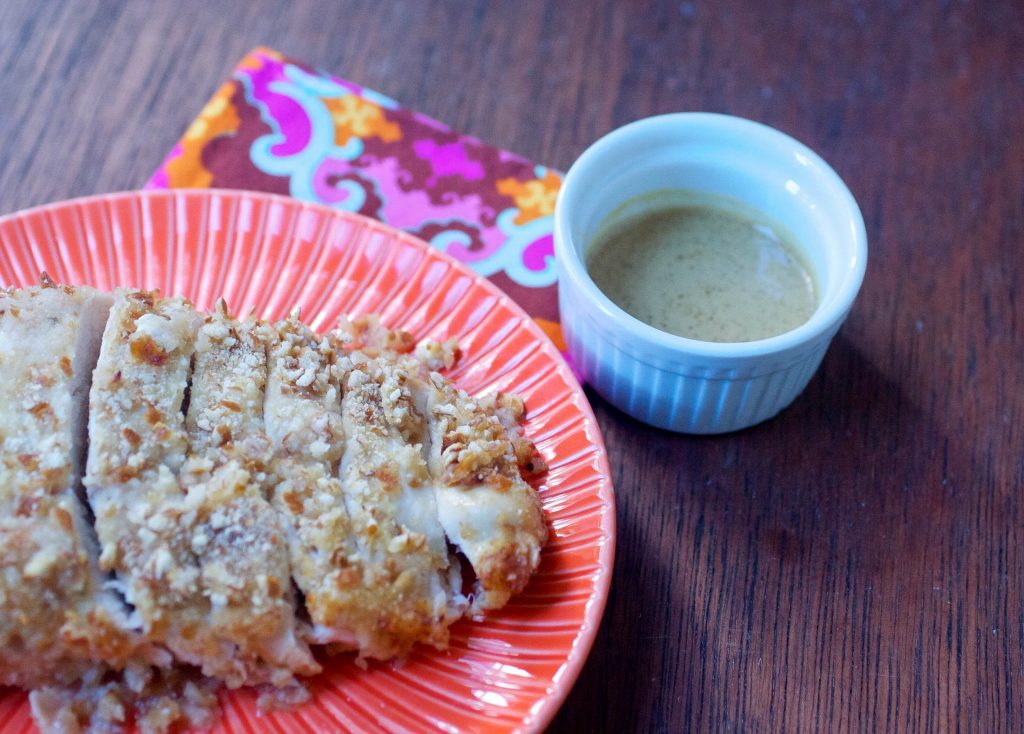 It's Friday, let's all do the happy dance. Have you adjusted post time change? I am loving the longer days. It is nice to get home and still have it be light.
For the last year I have wanted to try a pretzel coated chicken. Now I am wondering what took me so long. The salty pretzel crumbs coat the chicken and is served with a tart and tangy mustard sauce. I baked it but think it would be even better sautéed in a pan. I think the color and texture would be darker and crisper. This however, is much lower in calories, which is a huge plus as start moving towards spring and the return of the bathing suit.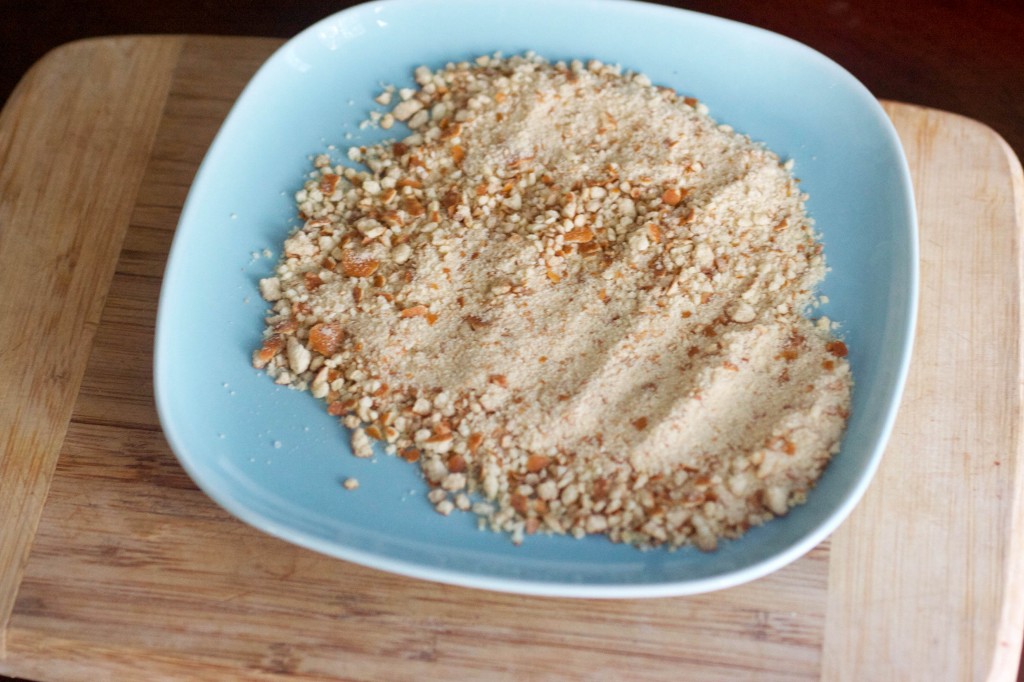 For the pretzel crumbs, I used hard pretzels I found at Cost Plus . They have so many fun things. Each time I go in there I have to resist the urge to buy more. But back to the pretzels, I placed them in a food processor and then stored them in a plastic bag until ready to use.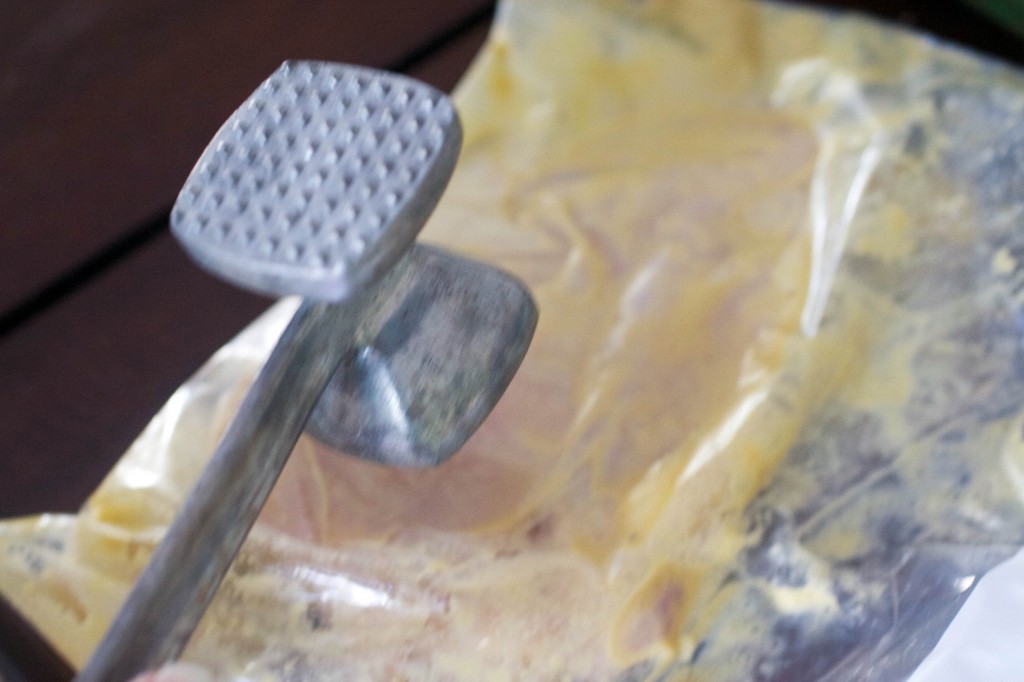 I placed the chicken in a bag with the marinade and just before dredging, I flattened with a mallet. Great way to release a little stress.
The chicken turned out very moist in side with a crunch coating not the outside. The dressing is delicious, I could have licked the plate clean, of course I resisted that urge, but it paired so well with the crunchy and salty chicken. Cut into strips and bake chicken strips for the kids. They love to dip things and this is a healthy alternative to the fried strips.
Make this and set aside another cup of pretzel crumbs for a refreshing dessert I will share next week.
Yield: 4
Pretzel Chicken with Mustard Dressing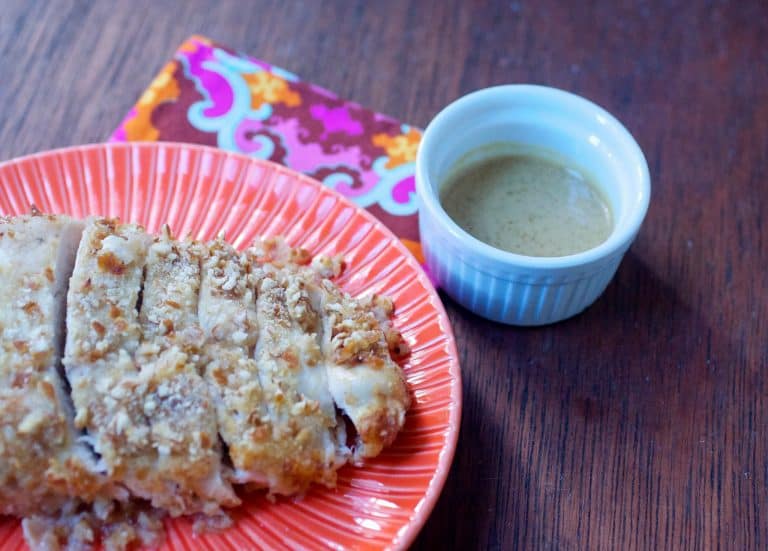 Recipe for a pretzel crusted chicken served with a sweet and tangy mustard sauce.
Ingredients
4 chicken breasts
2 cups pretzel crumbs, 1/2 box of hard pretzels
Marinade:
1/4 cup olive oil
1/2 cup Dijon mustard
3 tablespoons sherry vinegar
2 tablespoons honey
Salt and freshly ground pepper
Instructions
Mix marinade in a small bowl.
Place chicken breasts in plastic bag with half the marinade. Let marinade for an hour or up to 8 hours. Pound with kitchen mallet to flatten prior to dredging.
Preheat oven to 375 degrees. Spray a baking dish with canola oil.
Dredge the chicken in the pretzel combs until well coated on both sides. Place in the baking dish. Bake 15-20 minutes or until cooked through.
Serve with the remaining marinade as a dipping sauce.
Nutrition Information:
Yield:
4
Serving Size:
1 chicken breast
Amount Per Serving:
Unsaturated Fat:

0g