Pineapple Coconut Cake: A Holiday Tradition
This week I have asked a few bloggers and  writers to share their holiday traditions with you. Today Christy is joining us here at Adventures In The Kitchen. Her sons are adorable! She is sharing a few traditions from their family.
Christy Anderson is a freelance writer and photographer who happily makes her home in the low country of South Carolina. She is always up for an adventure with her husband and two young sons and spends her free time leading Bible study and the women's ministry in her church, Fireside Ministries.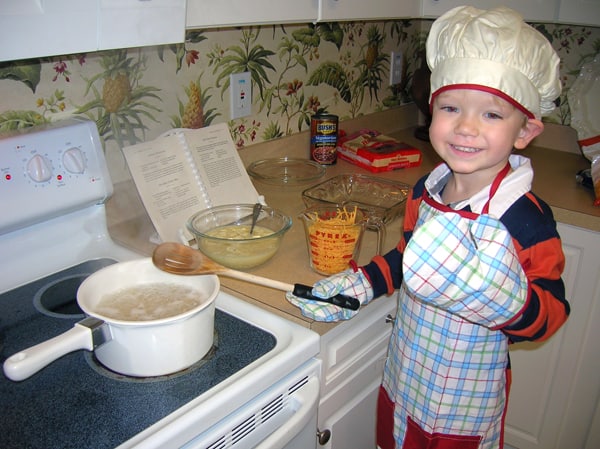 It's not uncommon to wake to the clatter of pans or the slamming of cabinet doors in my house. The kitchen is most definitely the center of our little home. When my eight-year-old son wants to mark a special occasion, he always offers to do it by making us breakfast in bed.
I'm not sure when it began. I never really learned to cook until after my husband and I got married. Those first few months of marriage we did a lot of eating out, but on the tight budget of a young sailor in the U.S. Navy, that did not last for long. Then, when we moved back closer to home when my husband's service was up, we really dove into to the kitchen. We both fell in love with entertaining. Family and friends were always welcome and we would make up reasons just to have a dinner party.
It was not until then that I really began seeking out all of those special recipes that have so many childhood memories attached. My Grandmama's giblet gravy for the holidays. My Aunt Gwen's homemade cornbread dressing for the turkey. My mom's home baked cake and icing for birthdays. Every event had a special dish from childhood firmly attached. And once I had children of my own, I reveled to be able to share this same experience with them.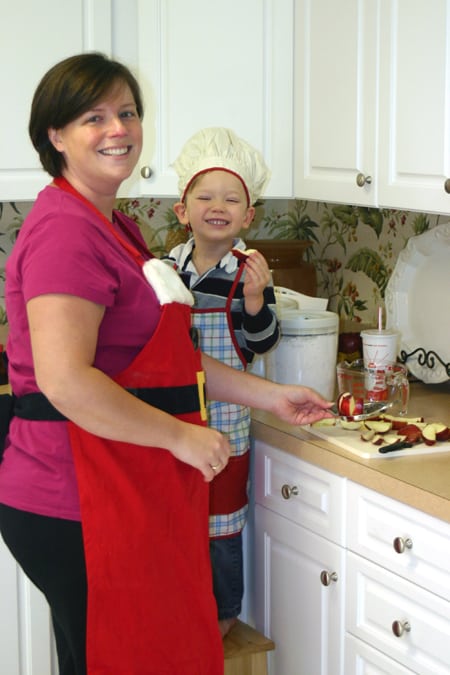 Food, in some ways, is like a glorious golden cord that connects us through years… generations even. My only regret was that I had never taken the time to learn any of my Granny's recipes before she passed away. She died the Christmas before I was married. I didn't realize at the time what a treasure trove of memories and wisdom she carried with her. I made sure to ask how she met my granddaddy, about their wedding day, about my dad's birth… I just never thought to ask her for the recipes she used each year when she baked chocolate coconut cakes, caramel apple cakes and homemade breads (sourdough was my favorite). I can remember rolling biscuits with her in the kitchen as a child and blowing the steam off a big bowl of grits at her dining room table. I just don't know how to recreate them myself.
A few years ago I decided to make a cake I'd found in a Paula Deen cookbook. With a family reunion just around the corner, I had the perfect opportunity to try it out. I baked the cake from scratch and decided to throw in some pineapple for good measure. I whisked up the meringue topping and carefully sprinkled coconut on top. I was proud of how it looked, but, since it was a new recipe, was taking a chance on the taste.
By the time the dessert table was opened, I'd forgotten about my creation until my great-aunt – my Granny's sister – came over and exclaimed that she was so glad I'd made that cake, "it tasted just like Jackie's!" Afterward, my parents and aunts came and said the same. I wasn't prepared for the emotion that brought! I had somehow managed to re-create a recipe I'd thought lost forever. But it wasn't a cake I had gained, it was a link to the past that I can share with my future.
Today we make it a point to involve our kids in the kitchen. We bake Christmas goodies and cook chili with top-secret ingredients. Our boys love it and the memories will last for generations to come. I have even started recipe scrapbooks for both of them that include pictures of the family members the recipes came from as well as pictures of us cooking them now. I hope this helps our little legacy continue. Perhaps one day my own great-granddaughter will be baking that handed-down recipe of pineapple coconut cake for a family reunion and happy memories will be shared again and again.
[mv_create key="20″ title="Pineapple Coconut Cake: A Holiday Tradition" thumbnail="https://adventuresinthekitchen.com/wp-content/uploads/2011/12/Chef-E1.jpg" type="recipe"]