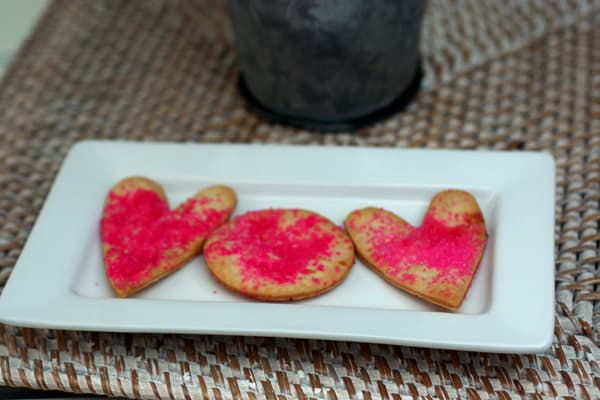 Tomorrow I'll be back with Chile Rellenos featuring those amazing Hatch chilies I got from Melissa's Produce. Today I have a fun little recipe, really not even that, you can do with kids. For the last nine years I have been cooking with my niece and nephews. As soon as they could pull up a stool they joined me at the kitchen counter.
A few weeks ago my niece was over and I was working on this recipe for Pizza Pot Pie for Pillsbury. Have I shared with you that I recently became a blogger for Betty Crocker and Pillsbury? Really a dream job. I grew up on The Betty Crocker Cooking for Kids cookbook. The top is made from Pillsbury pie crust. You can also make this pizza with their thin crust pizza. It is a delicious combination of fresh and dried figs, creating a easy fall appetizer or serve with a salad for a meal.
I had scraps left over so we rolled it out and cut hearts with a cookie cutter. She sprinkled the pink sugar over and we popped the pan in the oven. Ten minutes later she had a cute little heart cookies.
She is becoming quite the little chef. Another one of her favorites are the Lasagna Rollups we made at her cooking party. The girls loved spreading the ricotta cheese, sprinkling the meat and rolling up the lasagna.
My favorite thing about cooking with the kids? Talking, dreaming and just having fun together. I have learned so much talking and stirring. What about you – what do you learn while cooking with your kids?
Pie Crust Cookies
Pillsbury Pie Crust
Colored Sugars
Pre heat oven to 425 degrees. Roll out the dough.
Cut out cookies with the cookie cutters.
Bake 5-7 minutes or until the edges are just starting brown.