Peaches and Cream Cake Pops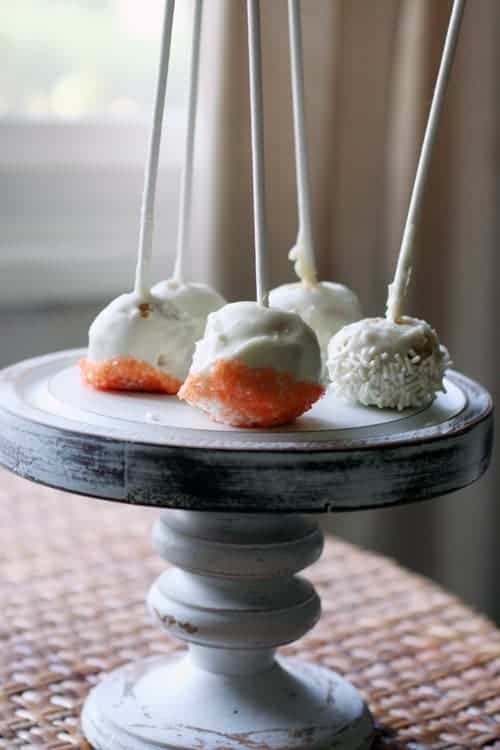 Cake pops are just fun to make and even better to eat. You can make a batch, freeze half and pull out when you are ready to serve them. I recruited my niece to help me make the Peaches and Cream cake pops. She had fun dipping them into the white chocolate and roll them in the sanding sugar.
I had seen this recipe over at Betty Crocker and thought they would make a tasty cake pop. The peach puree makes the cake sweeter and the cream adds a rich creamy base. The peaches and cream pair well with white chocolate. Dipped in white chocolate and finished off with orange sanding sugar they looked very summery.
I wrapped them in cellophane and tied a cute ribbon around. I brought them to my hair salon to surprise Jennifer and the other stylists. You could dip them dark chocolate for a variation. Be creative and enjoy.
1 batch of Peaches and Cream cake (recipe below)
1 tub of cream cheese frosting
16 ounces white chocolate
Orange sanding sugar
Lollipop sticks
Crumble the baked and cooled cake into a large bowl. Stir the tub of cream cheese into the cake crumbs. Using a small ice cream scooper form bowl cake balls and place a on cookie sheet. Place in freezer for an hour. Take out and place them in a plastic tub to freeze until ready to use.
Melt the white chocolate in the microwave or in a bowl over hot water.
Insert a lollipop stick into each cake ball. Dip into the white chocolate using a spoon to help coat the balls evenly. Dip into the sanding sugar and place on a sheet of parchment paper.
Peaches and Cream Cake
by Bettycrocker.com
1 bag frozen sliced peaches, thawed
1 box Betty Crocker Super Moist white cake mix
1/3 cup vegetable oil
1/3 cup whipping cream
3 eggs
1/4 cup peach preserves
Heat oven to 350°F (325°F for dark or nonstick pans). Grease bottoms only of two 8- or 9-inch round cake pans with shortening or cooking spray. Reserve 8 peach slices for garnish; cover and refrigerate. In blender or food processor, place remaining peaches; cover and blend until pureed. Reserve 1/4 cup blended peaches for filling; cover and refrigerate.
In large bowl, beat remaining blended peaches, the cake mix, oil, 1/3 cup whipping cream and the eggs with electric mixer on low speed 30 seconds. Beat on medium speed 2 minutes, scraping bowl occasionally. Pour into pans.
Bake 8-inch rounds 32 to 36 minutes, 9-inch rounds 28 to 33 minutes, or until toothpick inserted in center comes out clean. Cool 10 minutes. Run knife around sides of pans to loosen cakes; carefully remove from pans to cooling racks. Cool completely, about 1 hour.