One Important Goal You Can Make This Year: Family Meals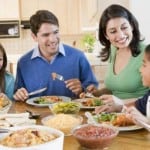 When you think about setting goals do you consider setting them for family meals? Family meals can be challenging when kids are young or they have grown into sometimes sulky teenagers. Life snowballs and with all the activities going on family meals easily slips away.
One meal a day as a family can radically change your family. It is consistently listed as one of the most important influences in your children's life. But I think it is just as important for adults.
What would it look like if you set goals for 2012 around the family meal?
What would you like your family meals to look like? How would you like them to feel? You can set goals in this area each year. Here are a few ideas to get started.
1. Eat Together Three Times a week
Action Plan:
Look over the schedule and pick 3 meals, maybe one is Saturday morning breakfast. Don't pencil them in; write them in ink.
Pick three simple meals. Even buy a rotisserie chicken for one meal and then use the leftovers the second meal. Make chicken quesadilla's or a Thai chicken wrap. Though I love to cook this is about the time together, not the food.
2. Have More Meaningful Conversation
Action Plan:
Have a jar of questions and pull one out each night. I am giving away a set of Food Talk cards here.
In January talk about dreams and goals.

What do you want to do when you grow up & why?
What new thing do you want to learn how to do this year?
How could we as a family celebrate birthdays this year?
What is one thing I could do to help around the house this year?
Is there a sport you would like to try?
Is there someone at school who needs a friend?
3. Develop a Giving Heart
Mealtime is a great time to pray for people in our lives and to cultivate a giving heart in our children. Organizations like Compassion or the Dalit Nework allow you to sponsor a child and correspond with them. You get information about their country and their family. They write you letters and you have the opportunity to respond. There are great moments to talk about as a family and follow as the child you sponsor grows up. Some people have even had the opportunity to go and meet the children they sponsor.
Action Plan:
Select a missionary or organization to follow for the year.
Share stories about the people you are following.
Have a prayer jar filled with names and draw one out at each meal.
Talk about the missionaries and the people they are caring for.
For several years my family has prayed for two children battling cancer. My niece and nephews offered up sweet and heartfelt prayers for their little friends. When one passed away last year they kept praying for other kids with cancer. They developed hearts of compassion.
I am not married and don't have children but I benefit when gathered around the table with my dearest family and friends. January 1st I went to breakfast with two of my good friends in Corona del Mar. It was a great way to start the year. I can get bogged down by my to do list and miss the benefits that time around the table brings. In those moments of conversation, dreaming and believing for more that magical moments happen.
It is food for our souls.
Share the goals you are making this year in the comments below.