National Can It Forward Day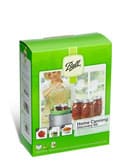 One of the things on my Summer 2012 bucket list was to try and can. It is something I have always wanted to do but am a little daunted when I read about the process. Well, thanks to the kinds folks at Ball I am going to be trying it this weekend. Saturday, July 15 is National Can It Forward Day and to celebrate they will be having live demonstrations.
This year the National Can It Forward Day will originate from Minnetrista  a cultural center in East Central Indiana, and  the original home of the Ball Brothers. On Saturday, July 14th, Jarden Home Brands, the makers of Ball® brand fresh preserving products, and the Minnetrista Master Preservers will demonstrate just how easy it is to preserve fresh produce for delicious results. And, chefs from the American Culinary Federation will share their recipes using these preserved products.
I am going to try and make the Mixed Berry Jam on the stovetop using their recipe. Their site has all the information you need to get started canning. One of the things I would like to try is Jalapeno Jam. I bought some delicious jam in Napa last October. I use it on eggs, quesadilla's and dips. I am still searching for the recipe but know that I will be so happy when I can reach in the cupboard and pull out a jar of homemade jam.
If you want to participate they have three ways for you to do so:
1. Access Can-It-Forward Day Web TV
2. Host a Home Canning Party
3. Participate in person if you live in Minnetrista region.
I will watching online and will post my story and pictures Monday. In addition, I will be hosting a giveaway for a Ball Canning Discovery Kit so check back here, tell me if you try to can and come back to enter to win your own Canning Discovery Kit.
http://www.freshpreserving.com/products/kits.aspx#canningdiscovery