Nana's Banana Pancakes for Pancake Week
Where we came from often influences the food we make. In many cultures recipes are passed down from generation to generation. When they are in the right mood kids love to hear bits and pieces of family history and they have already chosen family favorites that they love us to make. Recipes are such a wonderful way to pass on our family heritage and teach kids about the countries we come from.
It is National Pancake Week so it seemed like a fine time to share my favorite pancake. One of the recipes that I fondly remember is my Nana Well's banana pancakes. One of my earliest memories of our time together is helping Nana Wells make banana pancakes.
They moved out here when my grandfather came from Illinois to open a church in Anaheim. The Wells were from Ireland though I don't think of banana pancakes as Irish. Each had recipes from the countries they had come from. I wish now that  I had gathered more of the family recipes.
As I grew up and made Banana Pancakes in my house I would place thick slices of banana on the pancakes before flipping them. They caramelize and sweeten as they cook. You can chop up the bananas and sprinkle them on the batter if you would prefer. If you are looking for other types of pancakes check out this amazing list of pancake recipes.
What pancakes do you make for your family and friends? I'd love to hear.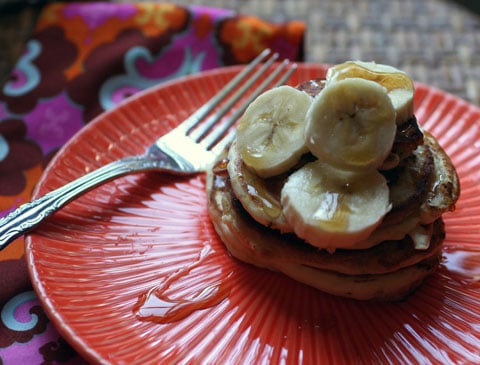 Banana Pancakes
This recipe is based on my Nana Wells recipe she served when I was growing up.
Ingredients
1 cup flour
2 teaspoons baking powder
1/2 teaspoon salt
2 eggs
1 teaspoon vanilla extract
3/4 cup milk
1 tablespoon melted butter
1 sliced Banana
Instructions
In a large mixing bowl whisk flour, baking powder, salt and sugar. Add eggs, vanilla, milk and melted butter and mix until well blended.
Heat a heavy non stick skillet over medium high heat. Melt 1 tablespoon butter and  pour approximately 1/4 cup per pancake. Place the banana slices on the pancake and cook until air bubbles form. Turn over and cook until slightly brown.
Variation:  Add one teaspoon rum to the batter. Follow above direction but sprinkle the batter with coconut and pecans, if you'd like.
Details
Prep time: 10 mins Cook time: 5 mins Total time: 15 mins