Meyer Lemon and Garlic Roast Chicken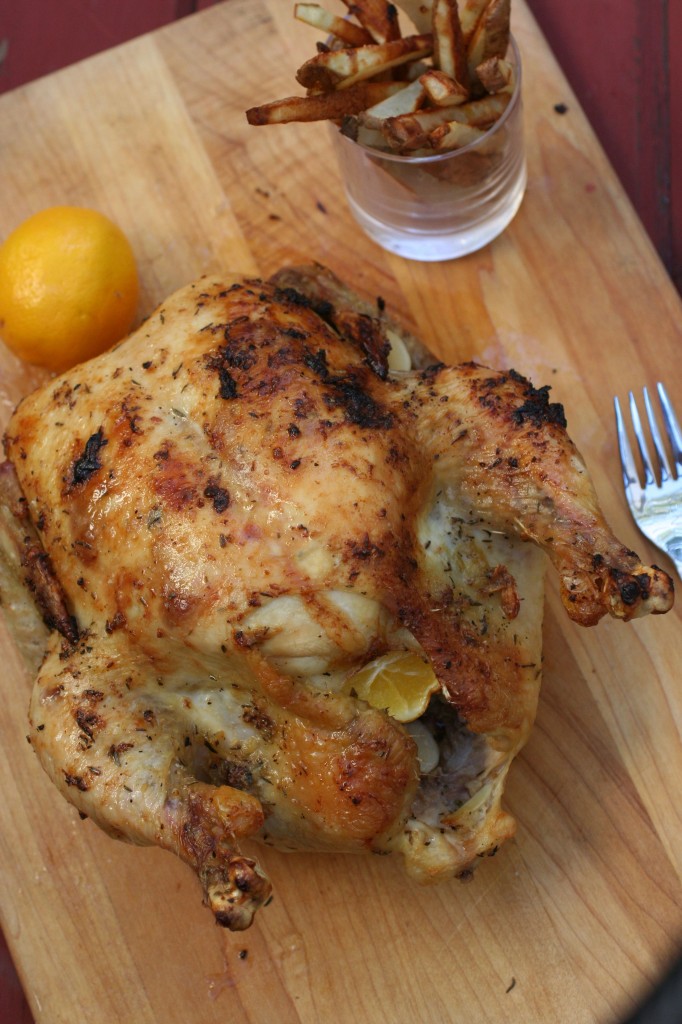 A few weeks ago I decided to make chicken stock. To do so I needed a chicken, so I roasted a chicken and then used the bones to make a stock. It was so easy I am not sure what took me so long. But back to the roast chicken. There is something comforting about it. It is the quintessential Sunday supper.
A few weeks ago my niece and nephews lost another little friend, Beck, to cancer. He was four years old. They have lost two friends in the last 10 months to cancer. I stared at a poster she had made listing 5 people she knew with cancer and three of them had died. One of their friends dad's died from cancer and their grandmother has battled cancer the last few years. It was a sobering moment.
This week they had a ponytail-a-thon to raise money to decorate kids rooms fighting cancer. The donated hair will go towards wigs for children. Today there is a 2nd grade class with most of the girls sporting little bobs and  looking like Kit Kitteredge. The same day they celebrated Beck's life attending a beautiful beach side service with everyone paddling out as they released his ashes. It brought tears to my eyes when I saw this picture on my sister-in-laws facebook page.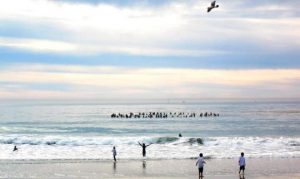 Food is a comfort in painful times. We sit around the table and share meals with those we love. We talk about life and share our dreams. My niece and I had one of those conversations last weekend. I find myself wanting to guard her young heart from the pain that this world can bring. They have been so brave and compassionate, bringing encouragement and company to their little friend until days before his death.
In the midst of this, with a bag of meyer lemon's sitting on the counter I thought about a lemon garlic chicken. Earlier this week I shared how to roast garlic . Well, I took part of that garlic and turned it into a roasted garlic butter that I rubbed the entire bird with. Using my fingers I massaged the butter under the skin and over the entire bird.
If you haven't tried roasting a chicken, go buy a bird and give it a try. Invite your family to join you, remember those in your life that have gone and be thankful each day for the days God blesses us with. Cherish every moment with those you love. Celebrate the everyday with a feast around your table.
Yield: 4 -6 servings
Meyer Lemon and Garlic Roast Chicken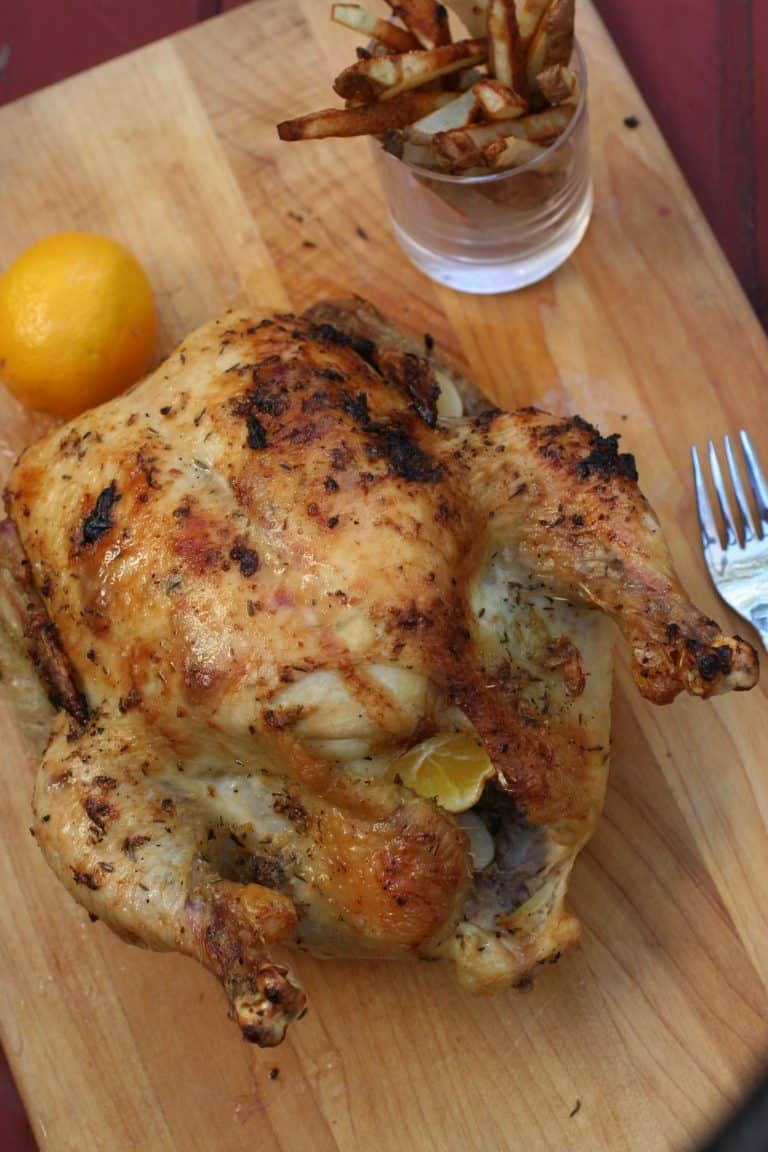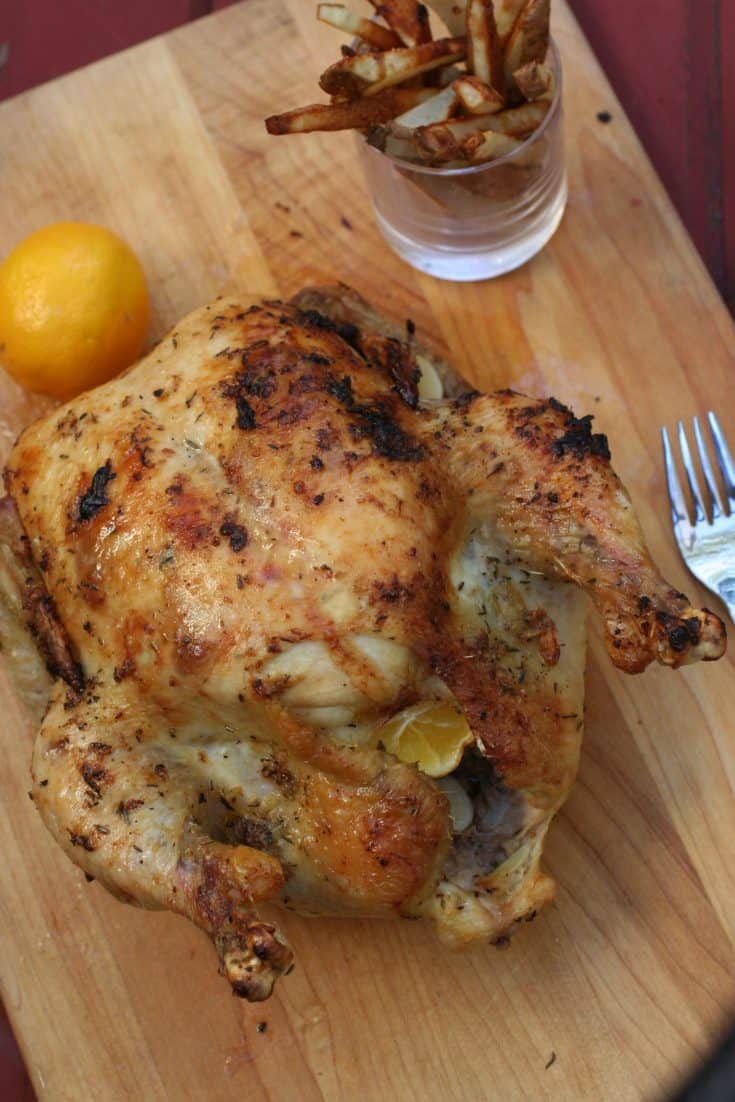 Total Time
1 hour
20 minutes
Ingredients
1 4- to 4 1/2-pound chicken, rinsed and patted dry
Coarse salt and freshly ground black pepper
1/4 onion
1 meyer lemon, sliced
2 sprigs fresh thyme
1 head of garlic, roasted
1/4 cup butter, softened
2 teaspoons lemon juice
Pinch of sea salt
Instructions
Preheat oven to 400 degrees.
Mash the garlic cloves with the butter, lemon juice and sea salt.
Place chicken in a roasting pan. Season chicken inside and out with salt and pepper. Take half the roasted garlic butter and with your hands spread in under the skin of the chicken.
Place onion, lemon and thyme inside cavity of chicken; using kitchen twine, tie legs together to enclose.
Transfer roasting pan to oven and roast until chicken is cooked through, about 1 hour.
Let sit for about 15 minutes before cutting.
Nutrition Information:
Yield:
4
Serving Size:
1 grams
Amount Per Serving:
Unsaturated Fat:

0g
Directions