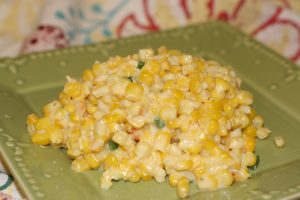 I was playing around in the kitchen today and decide to spice up cream corn. There are two restaurants here in Orange County that serve up delicious cream corn, Gulliver's and The Summit House.
We used to go each year to celebrate my mom's birthday at The Summit House. It is an English restaurant and her birthday is in December so it is always decorated beautifully. They have carolers come around and the evening is always very festive. One of the highlights is the cream corn. It is one of those dishes that tastes so good but so bad for you, so it is a splurge.
I kicked it up a notch adding jalapeno, oregano and basil. I lightened it by mixing cream with fat free milk. You could top it off with parmesan cheese and put it under the broiler. I love spicy food so I liked the kick this dish had. It would be nice served alongside grilled steak or chicken and a salad.
Mexican Cream Corn
2 cups corn ( I used fresh but frozen would wok)
1 tsp butter, softened
1 tsp flour
1/4 cup cream
1/4 cup low fat milk
1/2 jalapeno, stemmed, seeded & diced
Pinch of cayenne pepper
1 tsp sugar
1 tablespoon chopped oregano and basil
1/2 teaspoon kosher salt
Fresh ground pepper to taste
Mix the flour and butter together to make a paste. Set aside.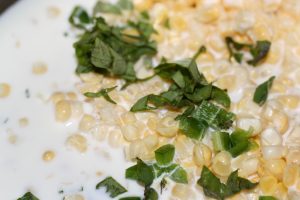 Place all ingredients into a pan and bring to a boil. Add the flour and butter and stir until it is thickened.