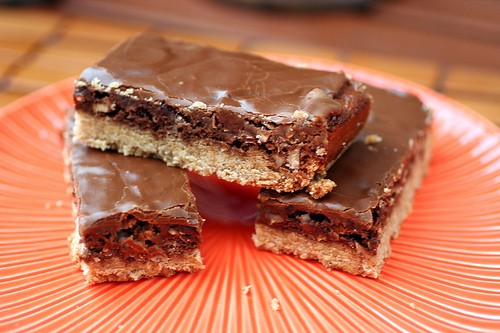 Are you ready for the weekend? I am! Last week  I participated in a race called Women Empowering Women raising support for the Dalit Freedom Network women in India. They are the "slumdogs" or the untouchables and are subjected to trafficking, prostitution and ongoing oppression. You can read more about it on their website.
Back here in the kitchen I am finally breaking open a few of the cookbooks I got for Christmas. One of them was the Pastry Queen Parties by Rebecca Rather and Alison Oresman. Someday I want to visit her place in Texas. This is the second book of her that I have bought and I love both of them.it. I  tried several recipes with much success.
The Mocha Malted Bars grabbed my eyes. The combination of the buttery crust, brownie like middle topped with the mocha frosting is amazing! Have a great weekend!
Malted Mocha Bars
adapted from recipe by Rebecca Rather

Crust
1 3/4 cups all purpose flour
3/4 cup (1 1/2 sticks) unsalted butter, at room temperature
2/3 cup firmly packed golden brown sugar
1/2 teaspoon kosher salt
Topping
1/2 cup granulated sugar
3 large eggs
3/4 cup chocolate malted milk powder
1/4 cup all purpose flour
1 teaspoon baking powder
1/4 teaspoon kosher salt
2 teaspoons vanilla extract
1 cup chopped pecans
1 cup sweetened shredded coconut
Icing
3 tablespoons chocolate malted milk powder
1 tablespoon instant espresso coffee powder
2 tablespoons hot water
2 tablespoons unsalted butter, at room temperature
1 teaspoon vanilla extract
1 1/2 cups powdered sugar
Pinch of kosher salt
Preheat the oven to 350F. Using an electric mixer fitted with the paddle attachment, combine the 1 3/4 cups flour, 3/4 cup butter, brown sugar, and 1/2 teaspoon salt and beat on medium speed until the mixture is crumbly. Press evenly into an ungreased 13 x 9 inch pan. Bake for 10 minutes.
In the same (unwashed) mixing bowl used for the crust, beat together the granulated sugar, eggs, the 23/4 cup malted milk powder, 1/4 cup flour, baking powder, the 1/4 teaspoon salt, and the 2 teaspoons vanilla on medium speed until combined. Stir in the pecans and coconut, if desired. Spread the mixture over the baked crust. Bake until the topping is set, 25 to 35 minutes. Cool.
In a large bowl, whisk together the 3 tablespoons malted milk powder, instant coffee, and hot water. Whisk in the 2 tablespoons butter, the 1 teaspoon vanilla, the powdered sugar, and the pinch of salt until smooth. Spread evenly over the bars. (Thin it with a few drops of water if it is too thick to spread easily.)  Let the icing set for about 15 minutes, cut the bars, and serve.