Lime Angel Food Cake with Strawberries and Lime Mascarpone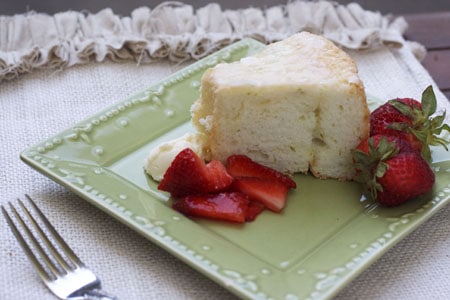 I don't know why it took me so long to share this cake with you. If you visit here regularly you know how much I love all things lime so when I came across this recipe for lime angel cake by those guys at Baked, I had to try it. The name angel food cake came about because of its airy lightness that was said to be the "food of the angels."
As a little girl we would have angel food cake, especially in the summer, at family gatherings. These days cooking desserts and having them sit around the house isn't always great for the diet so I resisted the urge until I was in charge of bring a dessert to my weekly small group.
Angel food cake is low in fat and is perfect when paired with fresh berries and a bit of whipped cream. I mixed fresh strawberries with a little lime juice and sugar and let them macerate for a few hours. Seeing a tub of mascarpone cheese in the fridge I decided to whip that with a bit of powdered sugar and the zest of a lime.
Make sure and mix this in a big bowl.
If I was bringing dessert Sunday this is what I would bring for Easter. Last year I made these but love Katie's adorable take on them. I love these Rice Krispy eggs by Bouchon Bakery. These Simple Easter Cupcake by Picky Palate are also super cute and would look pretty on the table.
As for my small group, here is what the plate looked like at the end.