Lemon Teriyaki Chicken Bowl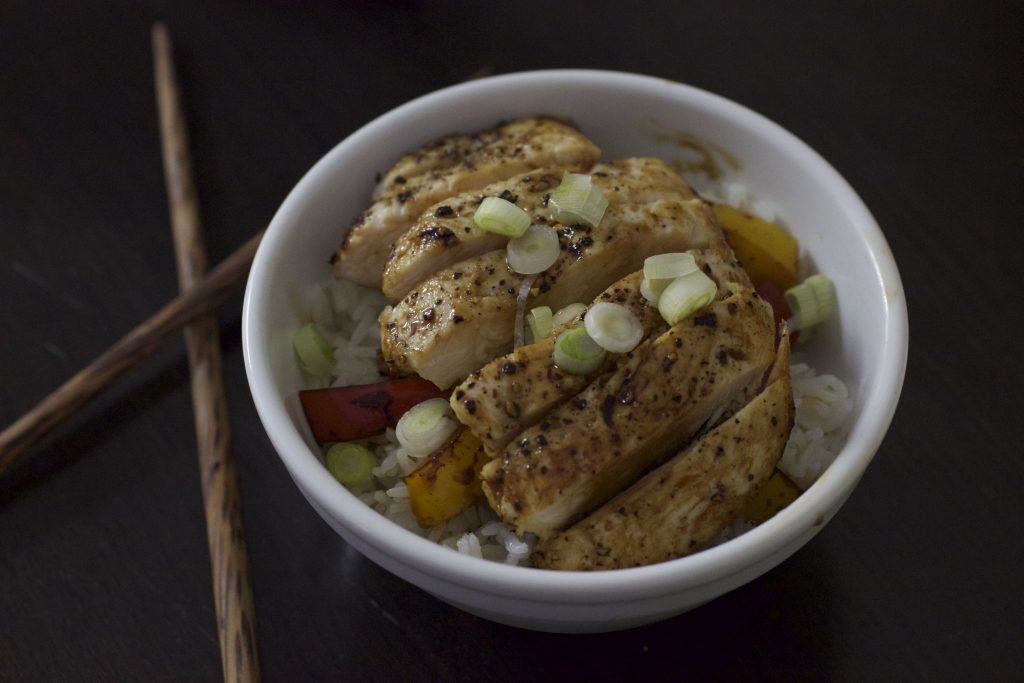 After all the Super Bowl indulging something healthy is on the menu! My favorite go to take out meal is from Waba Grill. They serve fresh teriyaki chicken bowls. When I saw this Lemon Teriyaki recipe from this months Cooking Light I knew I had to try it. Teriyaki Sauce is super easy to make and tastes much better than the bottled stuff. I find the addition of lemon cuts through the sweetness giving it a nice tang.
I was so happy with this recipe. I love that I can  make my own takeout bowl and customize with my favorite veggies. Make a big bowl of rice to have for the week, a batch of the sauce and pre-cut all the veggies. That way when you come home tired from work, you can whip together a healthy dinner.
Print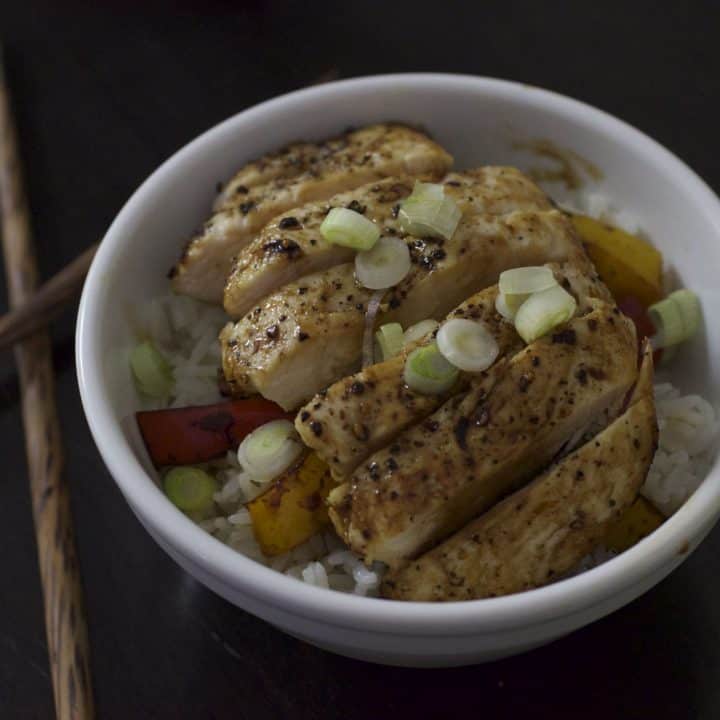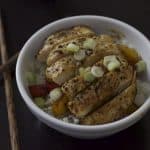 Lemon Teriyaki Chicken Bowl
---
1

cup

long-grain brown rice

2 tablespoons

lower-sodium soy sauce

1/2 teaspoon

cornstarch

2 tablespoons

dark brown sugar

4 teaspoons

mirin (sweet rice wine)

2 teaspoons

fresh lemon juice
3

6

–

ounce

skinless, boneless chicken breast halves

1/4 teaspoon

kosher salt

1/4 teaspoon

black pepper

2 teaspoons

canola oil

1/2

–

1

cup

veggies (broccoli, red pepper, onions)
---
Instructions
Preheat oven to 400°. Cook brown rice according to directions.
Combine soy sauce and cornstarch in a small saucepan, stirring with a whisk. Add brown sugar, mirin, and lemon juice; bring to a boil. Cook 1 minute or until thickened. Sprinkle chicken with salt and pepper. Heat a large ovenproof skillet over medium-high heat. Add canola oil to pan; swirl to coat. Add chicken to pan; cook 4 minutes. Turn; drizzle 1 tablespoon soy sauce mixture over chicken.
Place pan in oven; bake at 400° for 8 minutes or until done. Place chicken on a cutting board; let stand 5 minutes. Cut chicken into slices. Bring a large saucepan of water to a boil. Add veggies; cook 3 minutes or until crisp-tender. Drain. Place 1/2 cup rice in each of 4 bowls; top each serving with 4 ounces chicken and 4 ounces veggies. Drizzle about 1 tablespoon remaining soy sauce mixture over each serving.