Meyer Lemons are in stores right now and I  love to use them in baked goods. They brighten everything. Combine the lemons with raspberries and you will feel like spring is just around the corner.
This weekend is time change so we will be able to enjoy the start of spring evenings. This time of year always feels like a time of renewal and new beginnings. Even here in Southern California, after a season of colder weather and dark evenings, we look forward to spring. Farmers markets will soon be loaded with fruits and vegetables.
What are you looking forward to seeing at the farmers markets this year? Do you have a recipe waiting to me made? I still have meyer lemons to use up. Here is an exhaustive list of things to do with a Meyer lemon. I am thinking of a marmalade.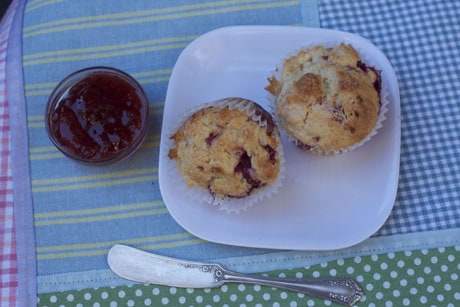 Ingredients
2 cups flour1/2 cup sugar2 teaspoons baking powder1/2 teaspoon salt1/2 cup, melted butter3/4 cup whole milk1 egg1/2 teaspoon vanilla extractzest of lemon1 1/2 cup fresh raspberries1 1/2 tablespoons sanding sugar
Instructions
1. Heat oven to 400° F. Line a 12-cup muffin tin with paper liners or coat with cooking spray.
2. In a medium bowl, combine flour, 1/2 cup of the sugar, baking powder, and salt. Add the butter and combine.
3. Whisk together the milk, egg, and vanilla in a bowl. Gradually add the milk mixture to the flour mixture and stir until just combined; the batter will be lumpy. Gently fold the berries and lemon zest into the batter.
4. Fill each muffin cup 3/4 full. Sprinkle the batter with the sanding sugar. Bake for 17 to 20 minutes or until a toothpick inserted into the center of a muffin comes out clean. Transfer pan to a wire rack to cool for 10 minutes. Serve warm.
Details
Prep time: 15 mins Cook time: 20 mins Total time: 30 mins Yield: 1 dozen muffins