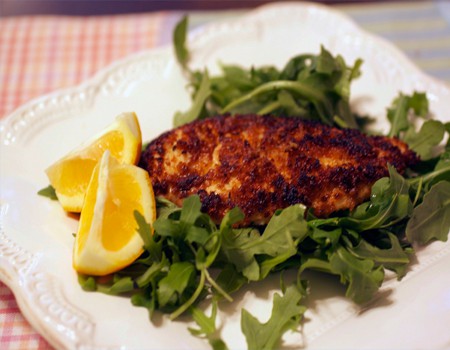 It has been a bit quiet here at Adventures in the Kitchen. I recently went through a transition from my job. I am excited and dreaming about what the future holds. With Easter this week I have a few recipes to share this week that might be a good addition to your meal.
This Lemon Panko Chicken was a nice surprise. I love the tangy crunch and think kids will like it too. Lemons say spring and add a brightness and new twist to the recipe. I served this on a bed of arugula tossed with a lemon vinaigrette.
This weekend I held my first Adventures In the Kitchen for kids cooking class in a long time. It was so much fun. Here is a little teaser. Stay tuned for a post showing all the fun we had.
Lemon Panko Chicken
Ingredients
4

boneless, skinless chicken breasts

2

eggs

1/2

lemon, juiced & zested

2

garlic cloves, minced

1 cup

panko breadcrumbs

1/3 cup

parmesan cheese, grated

1 teaspoon

salt

2 tablespoons

cilantro or parsley (optional)

1 tablespoon

butter

1 tablespoon

olive oil
Cooking Directions
Blend panko, lemon zest, parmesan cheese, cilantro or parsley (if using), salt and garlic in food processor.
Place in shallow bowl for rolling.
Combine eggs and lemon juice in separate bowl and mix well.
Dip each chicken breast first in the egg mixture and then thoroughly roll in cheese/panko mixture.
Heat a large non stick pan over medium high heat. Melt butter and add olive oil. Place chicken breasts in pan and cook until crisp on each side.
Prep time: 10 minutes
Cook time: 10 minutes
Total time: 20 minutes
Yield: 4 servings
If you to cut some calories you can place in a baking dish and cook at 400 degrees for 20-25 minutes, or until the crust is turning brown and the chicken is cooked through.