Land O'Lakes Eggs and a Frittata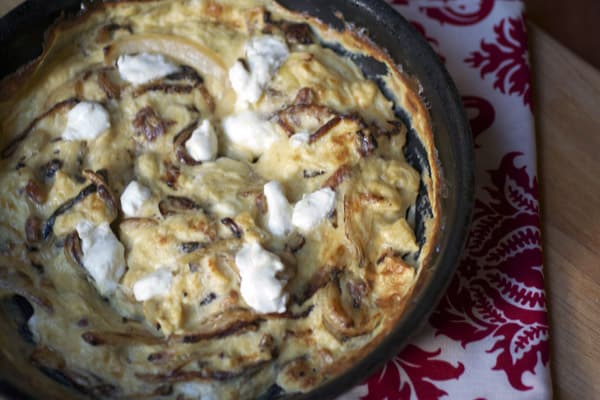 Weekend mornings are perfect for hanging out at home with friends and family enjoying a leisurely breakfast. Those are the mornings I have time to play in the kitchen and eggs are the centerpiece of any weekend breakfast.
A few weeks ago Land O'Lakes® and Betty Crocker asked a group of bloggers to create a delicious recipe using Land O'Lakes® All Natural Eggs. Their butter has been a favorite in my kitchen for years but only recently did I discover their yummy eggs. They had invited me a few months back to cook up a recipe for their Cinnamon Butter Spread. Maybe some of you even tried the Cinnamon Sugar Blueberry Muffins I made.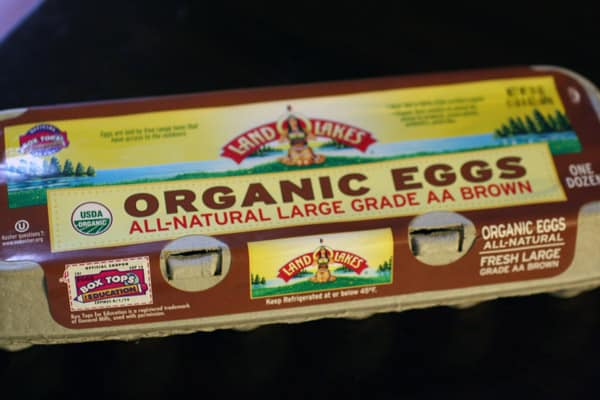 Land O'Lakes eggs  are all natural  which means they are produced by hens fed a premium vegetarian,  whole grain diet rich in corn and soy protein. They do not add antibiotics to the feed and no animal fats or by products are added to boost energy intake. This process produces eggs that are fresh and delicious. I especially like their Organic Brown Eggs and want to use the freshest eggs when cooking for family and friends.
This Caramelized Onion, Pancetta and Goat Cheese Frittata was inspired by a recent weekend brunch I happened upon while taking my niece to pick up her guinea pig. Her uncle and one of the family friends were cooking for their families and we got to join in on the fun. They served up this perfectly baked egg dish. I have to confess that I kept thinking about it for days.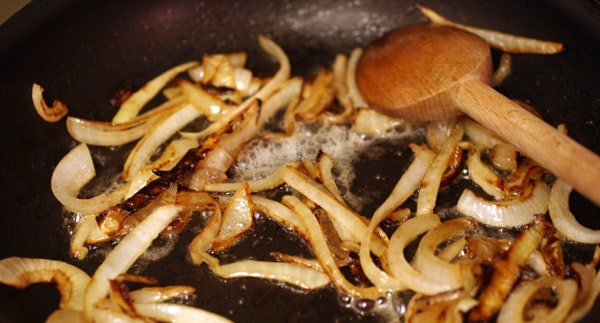 I knew the moment I said yes that I would create my own version of their frittata. The fresh Land O'Lakes® All Natural Eggs combined with sweet onions, crispy pancetta and creamy goat cheese create a memorable breakfast dish. Finishing off the eggs under the broiler, puffed them up and browned the edges.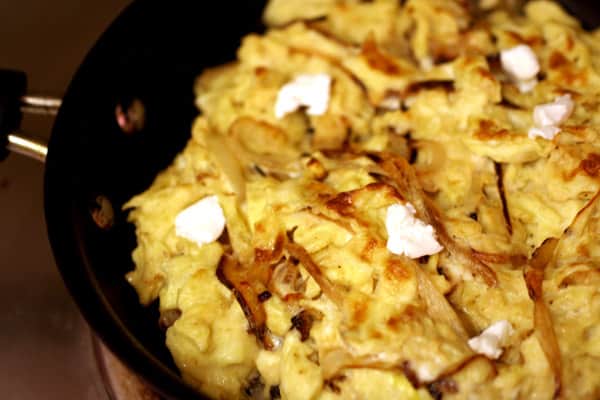 Check out the delicious dishes other Betty Crocker bloggers created using Land O'Lakes® All Natural Eggs. Visit their site where you can download coupons for their products. You can also find them on Twitter and Facebook.
Disclosure:  I purchased the eggs myself but I was compensated for this post. As always, the opinion are 100% mine.
Caramelized Onion, Pancetta and Goat Cheese Frittata
1 sweet onion, thinly sliced
1 teaspoon olive oil
1 teaspoon butter
4 ounces pancetta, cooked crisp
2 tablespoons butter
8 Land O'Lake eggs
4 tablespoons milk
Salt & Pepper to taste
1/4 cup parmesan cheese, shredded
4 ounces goat cheese, crumbled
Melt butter with olive oil into a large heated skillet over medium heat. Place the onions in the pan and cook them for 20 minutes or until soft. Stir to keep from burning. Add in the pancetta and cook until crisp.
Mix eggs, milk, salt and pepper in a mixing bowl. Pour over onions and pancetta. Sprinkle half the goat cheese into egg mixture. Scramble eggs until forming but still wet. Sprinkle goat cheese and parmesan cheese over the top of the eggs and place under the broiler. Cook 1-2 minutes until just slightly brown.
Cut in to wedges and serve.