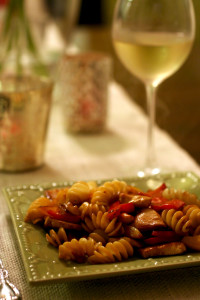 One of my favorite Chinese take out foods is Kung Pao Chicken. I love the fiery heat of the peppers mixed with the crunch of peanuts. Down by the beach one of my favorite restaurants, PF Chang's, has a takeout place. I miss it because here in my neighborhood there are not many great options. I am always on the lookout for a recipe that will duplicate that taste.
When I was looking at recipes last week for this pizza, from the California Pizza Kitchen cookbook, I remembered that they offer a twist by serving it with pasta. I went with pasta but you could easily serve with brown rice if that sounds better.
What is your favorite Chinese takeout meal?
Continue ready Kung Pao Pasta.
Kung Pao Chicken Pasta for Two
adapted from California Pizza Kitchen cookbook
Ingredients
Kung Pao Sauce
3/4 cup chicken stock
1 tablespoon cornstarch
1/3 cup low sodium soy sauce
1/4 cup dry sherry
1 – 2 tablespoons red chili paste with garlic
1 tablespoon sugar
1 tablespoon red wine vinegar
1 tablespoon toasted sesame oil
1/2 lb spaghetti
1/4 cup olive oil, plus
2 tablespoons olive oil
8 ounces boneless skinless chicken breasts, cut in 3/4 " cubes
1/2 cup vegetables, red peppers, broccoli
1/2 cup peanuts
3 cloves garlic minced
1 cup green onions, thinly sliced
In a medium saucepan, whisk together the chicken stock and cornstarch until the cornstarch is fully dissolved. Stir in all the remaining sauce ingredients and bring to a boil over medium-high heat. Reduce the heat and simmer until the sauce is thickens, 15 to 20 minutes. Set aside.
Bring a large pot of salted water to a boil. Add the pasta and cook until al dente, 8 to 10 minutes.
Heat alive oil in a large nonstick frying pan and add the chicken pieces. a large nonstick frying pan over high heat, heat the olive oil for about 1 minute.
Stir the peppers and roasted peanuts into the pan. As soon as they darken in color, after no more than 1 minute, stir in the garlic and scallions. Once the garlic begins to brown, after no more than 30 seconds, add the Kung Pao Sauce and toss and stir to coat the ingredients.
When the pasta is ready, drain it well and, in a large mixing or serving bowl, toss it thoroughly with the sauce.