Lasagna Rollups: Kids Cooking Party
Last week with the help of my sister-in-law Joy, I put on a Cooking Party for my niece Olivia and several of her friends. We were going to make Lasagna Roll Up as the main dish. It was a beautiful day so we started outside making our chef hats. Using letters I had cut out with my Cricut, the girls put their names on them and then designed a flower made from doilies and cupcake liners. I had seen them done here and thought they would look so cute on their chef hats.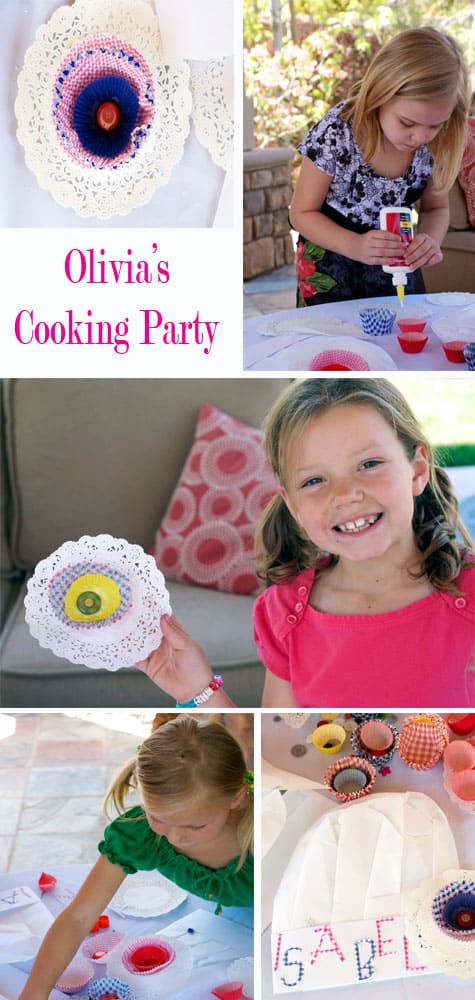 We stopped to pose for a group shot.
They then ran in to start cooking. I just love this shot!
The first thing we made was Lasagna Roll Ups. The girls mixed up their already cooked ground beef and spaghetti sauce. In another bowl they mixed the cheeses and the garlic.
They took their lasagna noodle and spread the cheese mixture on it.
Next they spread their meat across it.
Then the fun started when they rolled them up.
We put them in a pan and into the oven.
We also made Strawberry Lemonade and Strawberry Shortcakes. I'll post those recipes later this week. After we were done the girls enjoyed the fruits of their labor at a table around pool.
They left with a goodie bag filled with cooking utensils and a recipe book filled with all the recipes from the lesson.
Lasagna Roll Ups
Prep time: 20 minutes Cook time: 30 minutes Total time: 50 minutes Yield: 12 servings
Ingredients
12

lasagna noodles, cooked

1 pound

ground beef

1/2

medium onion, finely chopped

1 -28 ounce jar

spaghetti sauce

1 large carton

ricotta cheese

2 cups

mozzarella cheese, shredded

2 tablespoons

parmesan cheese

1

garlic clove, minced
Cooking Directions
Preheat oven to 350 degrees.
In a large pot, heat water to boiling and add lasagna noodles.
When water return to boiling, cook noodles 10 minutes, stirring occasionally,
Drain noodles and cool in single layer on wax paper or foil to keep from sticking together.
Cook ground beef and onions in skillet and drain well. Add spaghetti sauce and stir.
In a large mixing bowl, combine filling ingredients. Spoon cheese mixture over noodles, followed by sauce. Roll up and place seam side down in 9×13 inch pan lightly coated with cooking spray.
Cover with foil and bake 30 to 40 minutes.