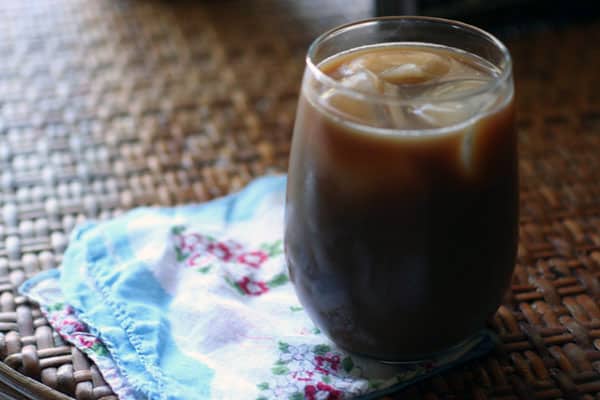 My summer obsession has been making my own Iced coffee concentrate. I love a tall glass of iced coffee with a splash of milk, sometimes even cream. I saw a few articles about it and decided to give it a try.
You place equal amounts of coffee and water in a bowl and stir. Cover and set aside overnight or up to 12 hours. Filter twice. I used the filter from my coffee maker over a mixing bowl. Then I do it again to make sure all the grounds are gone. My cousin Cassie uses her french press.
The cold brewed coffee concentrate is smooth. You will taste the difference. There is no bitterness and makes tasty, cool coffee drinks. I have been making a big batch on the weekend so I have a weeklong supply of Iced lattes.
This week on Adventures In The Kitchen our guest will be Karen Ehman. She is an author and speaker. Karen is part of the Proverbs 32 speaking team and I met her briefly at the She Speaks Conference I attended a few weeks ago. Her books include The Complete Guide to Getting and Staying Organized. We will be talking about back to school tips and fun ideas to celebrate the beginning of fall.

Iced Coffee
1/2 cup quality coffee grounds ( I used Peet's French Roast)
1/2 cup water
2 cups water
Mix the coffee with water, cover and set aside. In the morning mix in two more cups of water and refrigerate.
To serve fill a glass with ice, pour in coffee concentrate and add a splash of milk or cream.