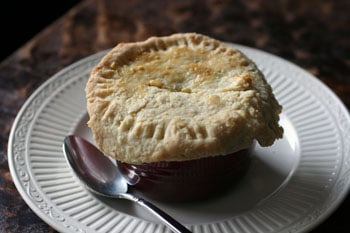 Certain foods evoke memories from our past. Chicken Pot Pie is one those foods in our family. Growing up we went to La Palma Chicken Pie Shop. It was a classic restaurant serving down home comfort food. Chicken Pot Pies were and still are their specialty. We went there often and sometimes Mom would bring home chicken pot pies for dinner. They are the quintessential comfort food.
This weekend I made Chicken pot pies with my niece and nephews. Mostly my niece as the boys are slowly outgrowing cooking, though not from being my favorite taste testers. I took a short cut by bringing a rotisserie chicken over. I took off all the meat and chopped it up. We made a rich, thick sauce filled with carrots, celery, onions and peas. We rolled out the dough, made from a recipe by Ina Garten, and cut out the circles to top the pies. If time is short you can use premade pie dough or puff pastry.
I was happy with the outcome. The kids and even my mom loved the chicken pot pies. I was given the direction to make it more often, which is the greatest compliment they can give me.
We sat around the table sharing our homemade pot pies and talking about their week. This week they attended a Celebration of Life for their dear friend Brielle who recently lost her fight with cancer. I first shared her story back in 2008. She was a brave little girl who fearlessly shared her love for the Lord with everyone she met over the time she was sick. She had a huge heart and a zest for life. She was insistent that no one would wear black to her service so over 2,000 people showed up, many in tie die shirts to celebrate her life. You can read more about Brielle and her story here.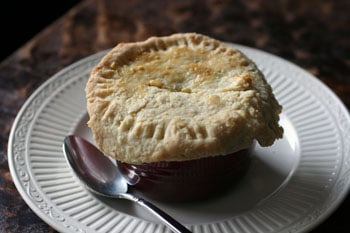 Chicken Pot Pie
A recipe for chicken pot pie using a rotisserie chicken for a easy to pull together dinner.
Ingredients
1 Rotisserie chicken meat removed and chopped
5 tablespoons butter
1/3 cup flour
3 carrots, peeled and cut
2 stalks celery, cut
1 medium finely chopped onion
1 cup whole milk
1/4 cup sherry
2 1/2 cups chicken stock
1/2 cup peas, frozen
1 teaspoon salt
1/2 teaspoon pepper
1 teaspoon thyme, finely minced
1 teaspoon rosemary, finely minced
Instructions
1. In a large saucepan melt the butter. Add the onions, carrots and celery and cook until onions are softened.
2. Whisk in the broth and then the milk and sherry. Turn to low heat and simmer for 10 minutes to let thicken.
3. Fold in the chicken, thyme, rosemary, salt and pepper. Stir to combine and turn off the heat.
4. Place in individual ramekins and top with pastry rounds (see below). Take a fork and press on the dough around the edge to make it stick. Brush with an egg that has been beaten and a make a slit in the top.Sprinkle with sea salt and cracked pepper.
5. Place on a baking sheet and bake for 1 hour, or until the top is golden brown and the filling is bubbling hot.
Details
Prep time: 20 mins Cook time: 25 mins Total time: 55 mins Yield: 4 servings
Homemade dough perfect for a chicken pot pie.
Ingredients
3 cups all-purpose flour
1 1/2 teaspoons kosher salt
1 teaspoon baking powder
1/2 cup vegetable shortening
1/4 pound cold unsalted butter, diced
1/2 to 2/3 cup ice water
1 egg beaten with 1 tablespoon water, for egg wash
Flaked sea salt and cracked black pepper
Instructions
1. Mix the flour, salt, and baking powder in the bowl of a food processor fitted with a metal blade. Add the shortening and butter and mix quickly with your fingers until each piece is coated with flour. Pulse 10 times, or until the fat is the size of peas. With the motor running, add the ice water; process only enough to moisten the dough and have it just come together.
2. Dump the dough out onto a floured board and knead quickly into a ball. Wrap the dough in plastic and allow it to rest in the refrigerator for 30 minutes.
3. Divide the dough into quarters and roll each piece into an 8-inch circle. Brush the outside edges of each bowl with the egg wash, then place the dough on top. Trim the circle to 1/2-inch larger than the top of the bowl.
Details
Prep time: 10 mins Cook time: Total time: 10 mins Yield: 6-8 chicken pot pies