Hoisin BBQ Chicken with Tropical Salsa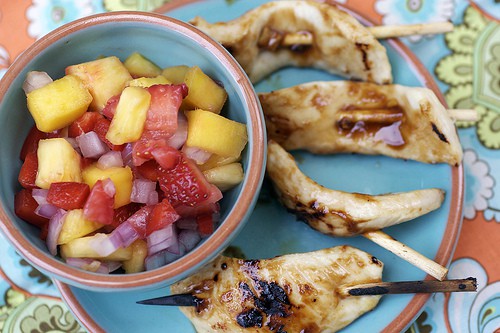 Summer entertaining is here. Since I am not a meat eater, I am always looking for new ways to cook chicken. This Hoisin BBQ chicken with Tropical Salsa is one of the new ways I am cooking it this summer. The hoisin sauce is sweet yet spicy. The salsa has pineapple, mango, strawberries and red pepper. This one has just a hint of ginger but you could add cilantro or mint if you want to.
They are both easy recipes, one bowl each. Just a bit of chopping and stirring. You can make both earlier in the day, the Hoisin BBQ sauce could be made the day ahead.
I had thinly sliced chicken breasts on hand so I ended up skewering them. You could just cook whole breasts. The salsa would be great on fish too.
Hoisin BBQ Chicken with Tropical Salsa
1/4 cup hoisin sauce
1 tablespoon soy sauce
1 teaspoon sambal
1 teaspoon rice wine vinegar
1 clove garlic minced
1 teaspoon ginger minced
1 green onion chopped
2 boneless skinless chicken breast
Kosher salt
Freshly ground pepper
Mix all ingredients other than the chicken breast in a small bowl. Brush sauce on while cooking them on the grill. Serve a little of the sauce on the side along with the Tropical Salsa.
Tropical Salsa
1/4 cup pineapple, diced
1/4 cup mango, diced
1/4 cup strawberries, diced
1/4 cup red bell pepper, diced
1/4 red onion, diced
1 teaspoon ginger, minced
1 tablespoon brown sugar
Mix all ingredients together in a bowl. Chill until you serve.