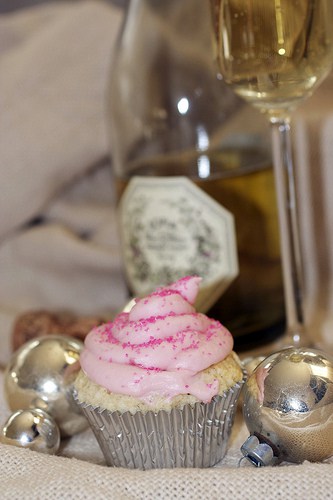 It's New Years and time for a toast. For a fun addition to this evening or any special celebration try these Champagne Cupcakes with a Raspberry Champagne Buttercream.
The cupcakes are a bit drier but when topped with the sweet and buttery frosting they are perfect. I used Coppola's Sophia Sparkling Wine. It is pink, sweet and perfect for these little cakes.
I'm having dinner at a little Italian restaurant with friends tonight. Truth be told I'd love to be home entertaining at home. I hope each of you has a safe and Happy New Year's Eve. Thank you for visiting Adventures In The Kitchen this year!
Champagne Cupcakes
adapted from All Recipes
2 3/4 cups all-purpose flour
3 tsp. baking powder
1 tsp. salt
2/3 cup butter
1 1/2 cups sugar
3/4 cup champagne (I used Pink)
6 egg whites
Preheat oven to 350F. Line cupcake pan with liners or butter and flour the pan.
Sift flour, baking powder and salt together.
In a mixing bowl mix the butter and sugar. Mix in the flour and champagne until blended.
In a separate bowl beat the egg whites until stiff peaks form. Fold in 1/3 of the egg whites with the batter, then fold in the remaining eggs.
Scoop the batter in the cupcake pan. Place in oven and back 20 minutes or until a toothpick inserted into the center of the cupcake comes out dry.
Raspberry Champagne Buttercream
adapted from DC Cupcakes
8 ounces butter
4 cups powdered sugar
1/2 cup pink champagne
1 teaspoon vanilla
1/4 teaspoon salt
1/8 cup pureed raspberries
pink sanding sugar (optional)
Place the butter in the bowl of a stand mixer or hand-held electric mixer. Add the confectioner's sugar; beat on medium speed until well incorporated.
Add the vanilla, salt and Champagne, and beat on high speed until light and fluffy. Place frosting in a disposable piping bag with a large round tip.