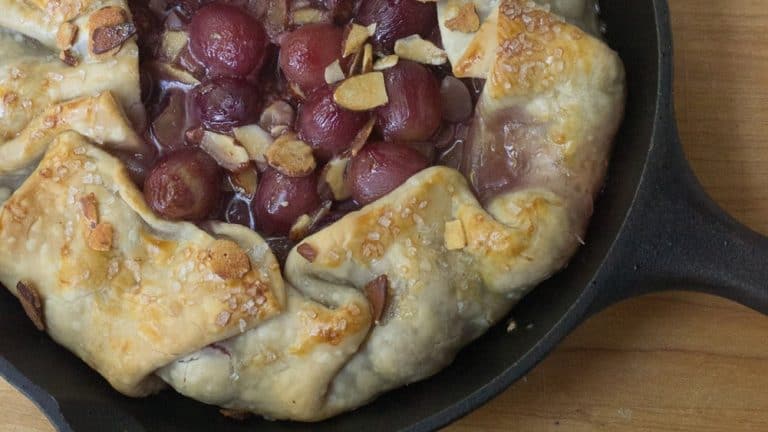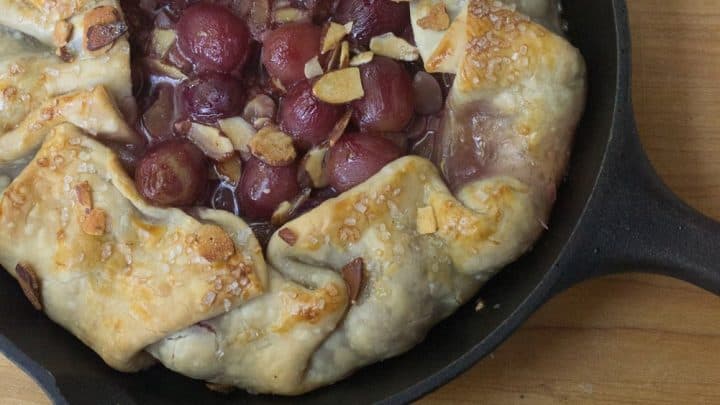 I learned something new this weekend – you can grill a pie on your bbq. When my friends over at Pillsbury asked me to create a grilled dessert using Pillsbury® Refrigerated Pie Dough I thought sure! Then I thought really? This Grilled Grape Almond Pie is easy and you can do it too! Cook the pie while you are lingering after dinner around the table.
The first thing you need, other than a barbecue, is Pillsbury® Refrigerated Pie Dough. I love making homemade dough but let's be real, we are busy and that is not always an option. Pillsbury® makes a versatile pie dough that can be used to make sweet and savory dishes.
Take out your cast iron skillet and unroll the dough into the pan. Gently push the bottom down and the side ups.
Place your grapes in a bowl and sprinkle two tablespoons sugar and one tablespoon of port wine over the top. Add a pinch of salt and stir. Pour into the pie shell.
Push down the sides of the dough, folding about an inch over and repeating around the circle. Brush with egg wash and sprinkle with sanding sugar.
Place on a grill heated to 425 degrees. Cook for about 20 to 25 minutes until the edges are browned and the grapes are softened.
This is a sweet and juicy pie. The only thing better would be to top it with ice cream or Greek yogurt and drizzle with honey.
Have you ever grilled a pie? Give it a try this summer – you'll be pleasantly surprised.
Disclosure: I received payment for developing a recipe for Pillsbury. The opinions are all my own!