Grilled Farmer's Market Pasta
Our grilled farmer's market pasta is created with colorful grill vegetables tossed with pasta and a simple parmesan vinaigrette.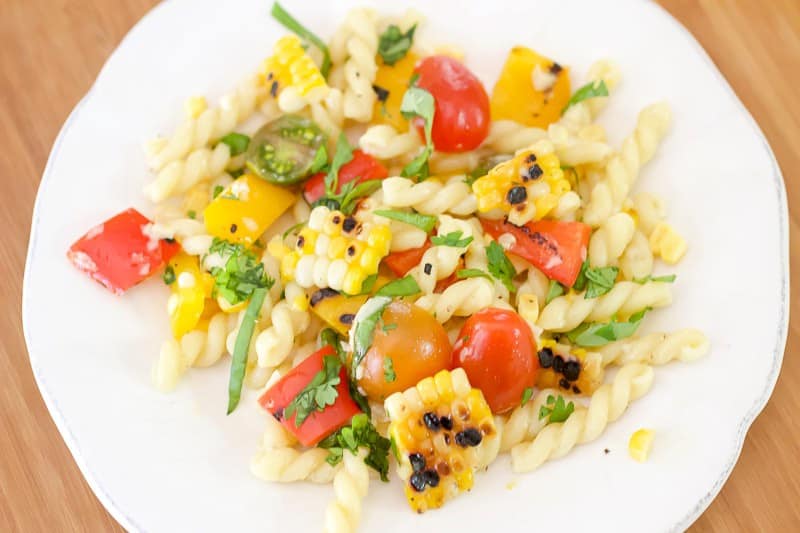 This weekend we celebrate Labor Day. Celebrate with this Grilled Farmer's Market Pasta. This pasta is filled with grilled fresh veggies, fresh herbs, and a Parmesan Vinaigrette. Growing up Labor Day represented the last hurrah of summer.
This time of year we have the last of the fresh tomatoes and all the yummy summer vegetables. Use what you have on hand, grill them and toss them with the pasta. It's important to have dishes that are versatile and you change up with what is on hand, because who wants to have to run out to the store at the end of the day.
I made this before I embarked on my Arbonne 30 day healthy living challenge. This week I am going to share more about that journey but for 30 days you eliminate sugar, gluten, and dairy. To make this 30 day healthy I would make the following substitutes:
Use brown rice pasta
Serve with a lemon vinaigrette
Leave out cheese and corn
Print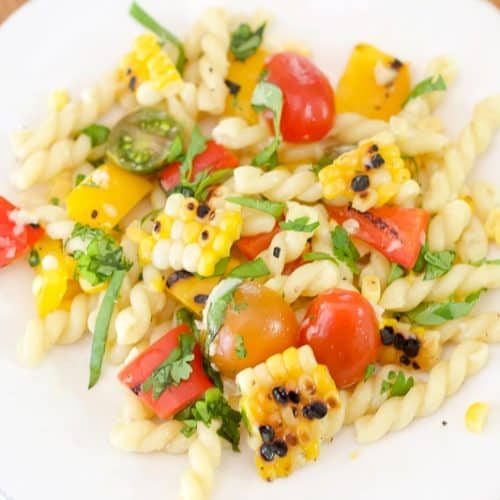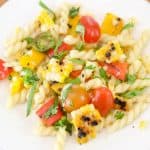 Farmer's Market Pasta
---
1

cup

baby heirloom tomatoes (halved)

1

zucchini (thinly sliced into half-moons)

1

red bell pepper (cut into thin strips)

1/4

cup

green onions (thinly sliced)

1/2

8 ounce package penne pasta

1/4

cup

fresh basil (torn)

1/4

cup

fresh cilantro (chopped)
Parmesan Vinaigrette
1/4

cup

Parmesan cheese (freshly grated)

1/4

cup

olive oil

2

teaspoons sherry vinegar

1 tsp

lemon zest

2

tablespoons lemon juice

2

garlic cloves

1 teaspoon

black pepper

2 tablespoon

fresh basil (chopped)

2 tablespoon

fresh cilantro (chopped)
---
Instructions
Pasta
Toss together the tomatoes, zucchini, bell pepper, corn, scallions, and vinaigrette in a large bowl, and let stand 10 minutes.
Prepare the pasta according to the package directions. Add the hot cooked pasta and chicken to the tomato mixtures. Toss gently to combine. Season with salt and pepper to taste. Top with basil and cilantro
Parmesan Vinaigrette
Place the Parmesan cheese, olive oil, lemon zest, lemon juice, sherry vinegar, garlic pepper, and salt in a blender or food processor and blend until smooth. Add the basil and cilantro and pulse 3-4 times.
Here are a few other corn recipes you might like: