Grilled Chicken and Broccoli Alfredo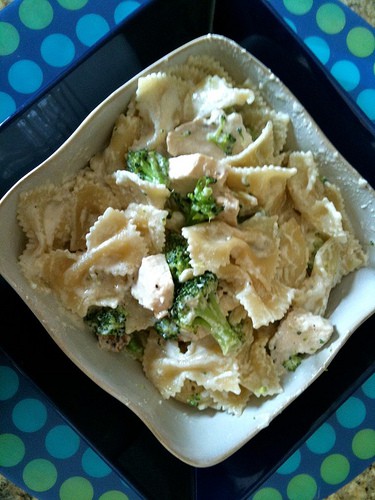 This summer my niece has made "pasta with cheese" or fettuccine alfredo, her favorite dish. Last night I decided to try a light version, inspired by a Cooking Light recipe. I used bowtie pasta and added grilled chicken and broccoli to make a healthier dish for kids.
The lightened version has less butter and substitutes half and half for heavy cream. In Cooking Light they were able to take 10 grams of fat off per serving. Their sauce was a bit bland for me so I added a clove of garlic. The kids, my toughest critics some days, liked it. Chase, who has an aversion to cheese, said I should bring it next week.

Grilled Chicken and Broccoli Alfredo
6 servings
1  pound  uncooked fettuccine or bowtie pasta
1  tablespoon  butter
1 – 2 cloves garlic
1 1/4  cups  half-and-half
1 cup  (3 ounces) grated fresh Parmesan cheese
1/2  teaspoon  salt
1/4  teaspoon  black pepper
2 boneless, skinless chicken breasts, grilled & cubed
1 – 1 1/2 cups steamed broccoli
Cook pasta according to package directions, omitting salt and fat.
Melt butter in a large skillet over medium heat. Add half-and-half, cheese, salt, and pepper; cook, stirring constantly until the sauce thickens. Reduce heat; add pasta, chicken and broccoli, tossing gently to coat.