Gluten Free Almond Cherry Upside Down Cake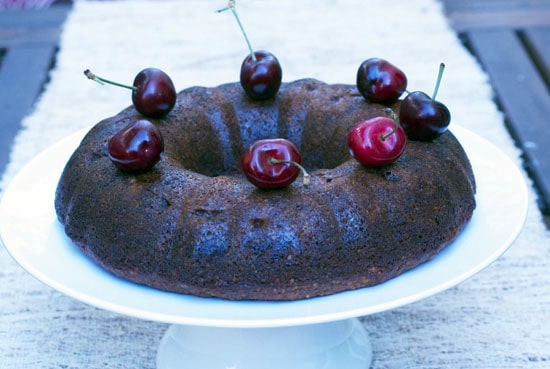 My friend is on a gluten free diet and this week I decided it was time to bake something to bring to our Sunday Suppers. He generously opens his house up each week and lets us cook and even watches crazy movies like Working Women with us. The hair in that movie is crazy. I cringed thinking of a few photos in old albums where I might have had similar hair to Melanie Griffith. There are some trends I hope never are revisited and quarter back shoulder pads are one of them. Anyways, I digress. I saw this Almond Cherry cake over at Roost and with cherries in season I picked this for my first gluten free baking session.
I went to buy almond flour and almost passed out at the $12 price tag. I bought a bag of blanched almonds in the bulk section of Sprouts and took them home to grind my own flour. I saved $7 by doing that. Make sure you finely grind the almonds. There may have been a few chunks in my cake.
The cherries were easy because of this. If you love cherries, this is the bomb. It makes pitting a quick task.
It turned out great (everyone had seconds) but I would tweak a few things next time. I might add a bit of cinnamon and I would serve with whipped cream or maybe creme fraiche. I would also add more cherries at the bottom.
Almond & Cherry Upside Down Cake
3 cups almond flour
1/2 tsp salt
1/2 tsp baking soda
3 eggs
1 tsp almond extract
1/2 cup melted butter (she used ghee)
1/2 cup honey
1 cup or so of cherries pitted and halved
Preheat oven to 350F.
Mix dry ingredients in a bowl. Mix wet ingredients in a bowl. Combine dry and wet and set aside. Butter or spray a bundt pan (or you could use a regular cake pan). Place the halved cherries cut side UP at the bottom of the pan (the amount of cherries needed will depend on your cake/bundt pan).
Pour batter on top of cherries and place in oven for 25-30 minutes or until golden brown and a toothpick inserted comes out clean. (It took every bit of the 30 in my oven)
Cool for at least 30 minutes.
After cake is cooled place a plate or cake stand atop the cake pan and flip. The cake easily slid out.