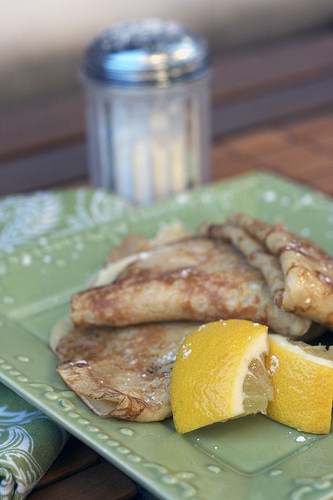 Lately I have seen crepes pop up on many menus. Crepes Bonaparte is a local food truck that competed in the Great Food Truck Race on the Food Network and they are super popular here in Orange County.
Growing up I used to make crepes on the weekend for breakfast. I loved German Pancakes, which are crepes with lemon, butter and powdered sugar. It was always a treat when I got to order those at our local pancake house. As I grew up and started playing around in the kitchen, making them for my family.
Feeling inspired this morning I dug in the kitchen cabinets to find the crepe pan a friend gave me about ten years ago. Sad, I know that it took me that long to try it out. I found the cookbook that came with it Crepes, Sweet and Savory Recipes for the Home Cook by Lou Seibet Pappas.
Crepes are easy to make. You dump all the ingredients into a blender and blend for a few seconds until smooth. That's it. The trickier part is getting the batter spread out quickly in the pan. You want a thin crepe not a pancake.
The batter is better if you make it the night before. How great is that? You can make these ahead of time stacking them, wrap in plastic wrap and slip them into a self-sealing plastic bag. Refrigerate the crepes for up to 3 days, or freeze them for up to 2 months. When you are reader to serve wrap them in foil and place in a preheated 200 degree oven.
[mv_create key="10″ title="German Lemon Crepes" thumbnail="https://adventuresinthekitchen.com/wp-content/uploads/2011/01/5358049994_b3d5f114a5.jpg" type="recipe"]