Forty Cloves Garlic Chicken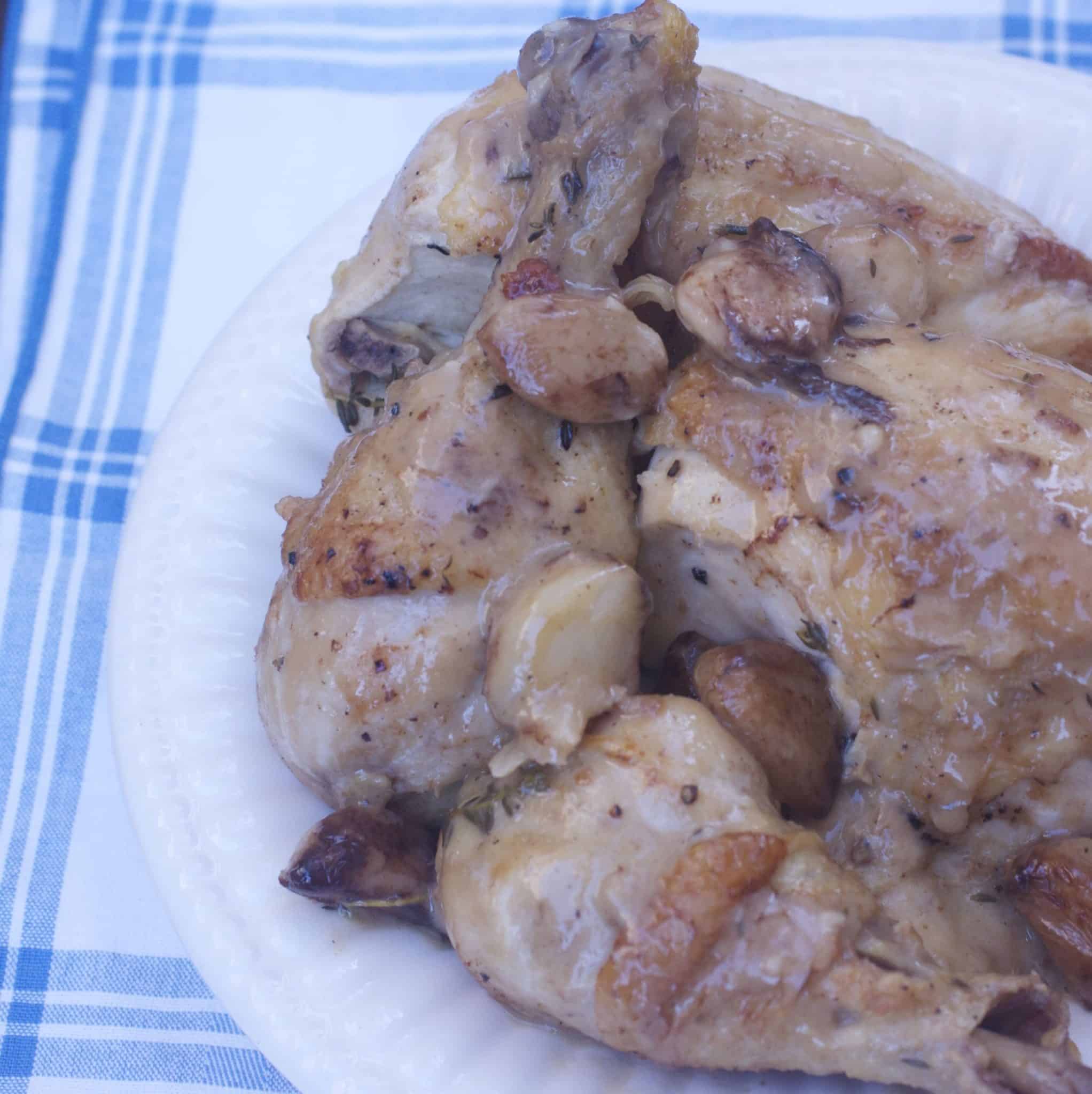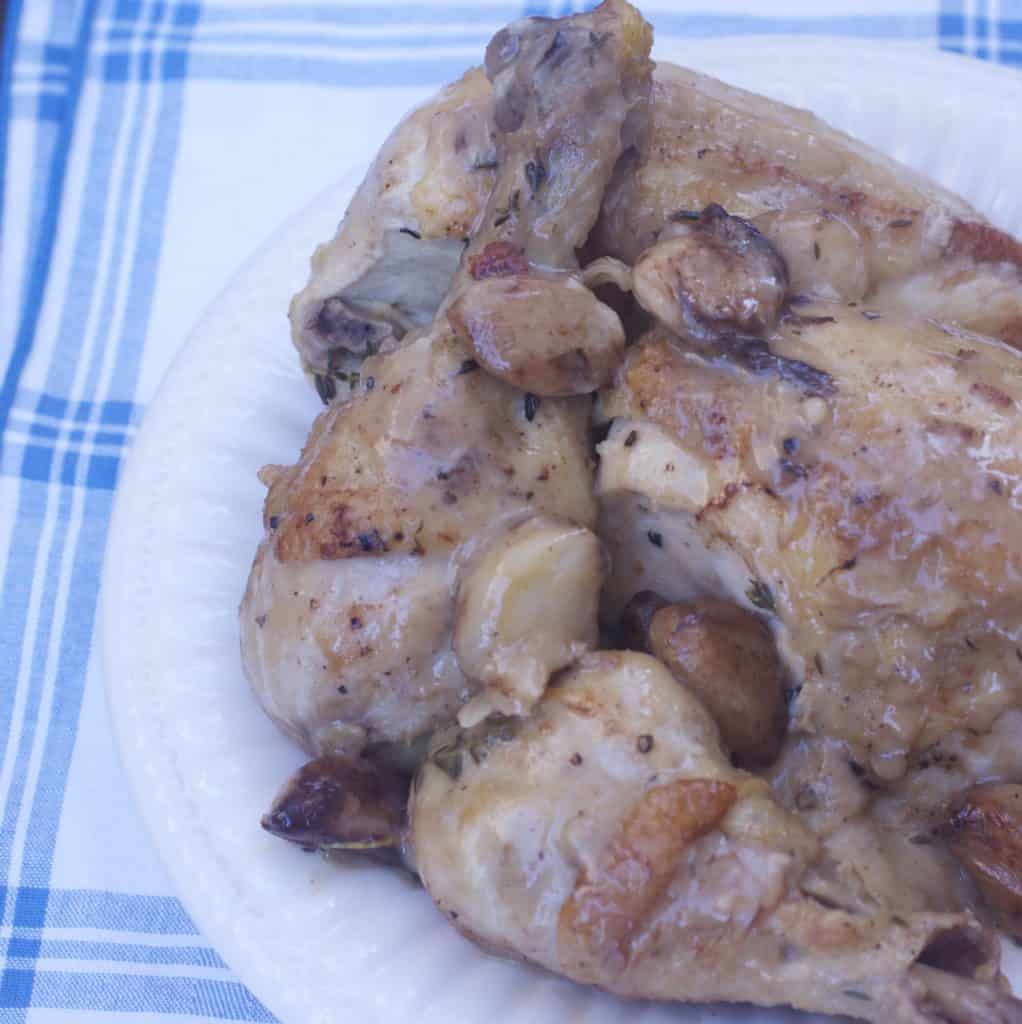 What happens when you mix forty cloves of roasted garlic with chicken stock, a splash of cognac and white wine? This amazingly delicious chicken. I was trying out recipes for a new digital magazine I am excited to be a part of, Parisienne Farmgirl. It is coming out April 1 and Angela, will be joining us here later this month to share about the magazine.
I was researching french bistro food and have always wanted to make this dish. It seemed like the right time and I finally did – why did wait so long?
You start with roasting the garlic. Brown the chicken, after dredging it with flour, salt and pepper.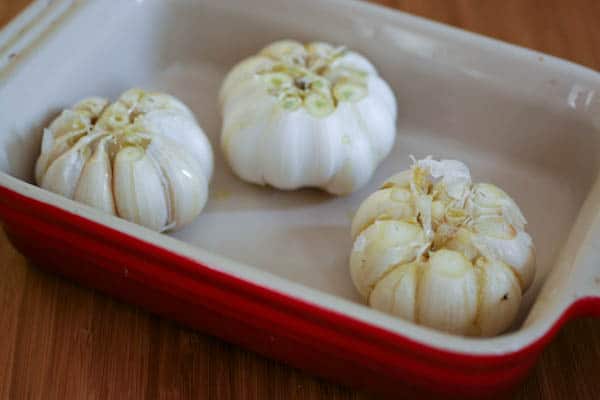 Add the garlic and cook for 10 minutes. Add the stock, cognac and white wine and return the chicken to the pot. Cover and cook for 30 minutes. Take the chicken out, add a roux of flour and water and finish with a splash of cream. Pour the sauce over the chicken and serve.
Refrigerate any leftovers and reheat in a over at 350 degrees.
You have a few more days left to enter the giveaway for a Zoku Quick Pop Maker.
Are you on Pinterest? Follow me and see the recipes I am making elsewhere as well as new ones I hope to try here. I'd love to see what you are pinning. Now go and make this dish! Let me know if you do.
Yield: 4 -6 servings
Forty Cloves Garlic Chicken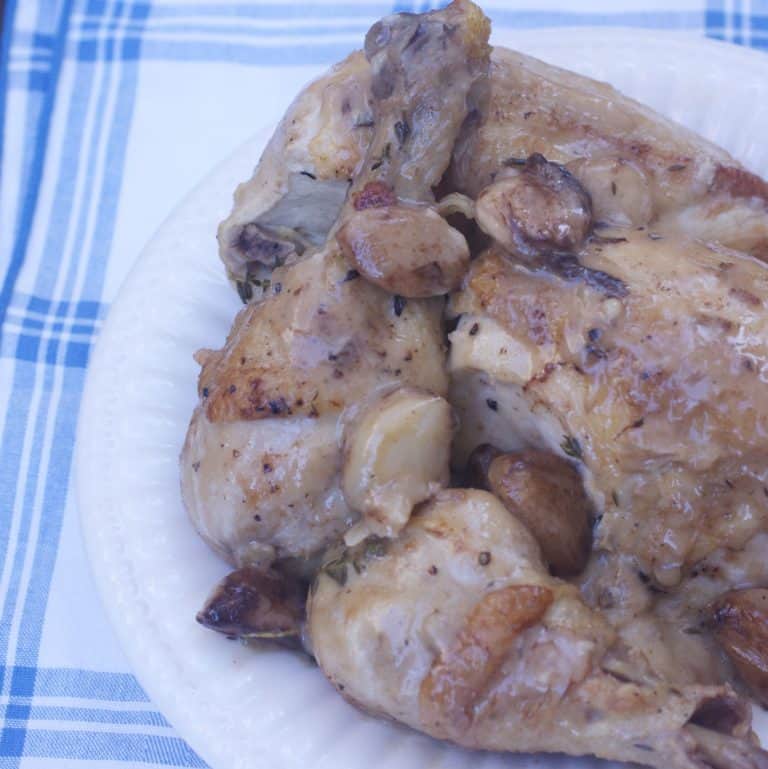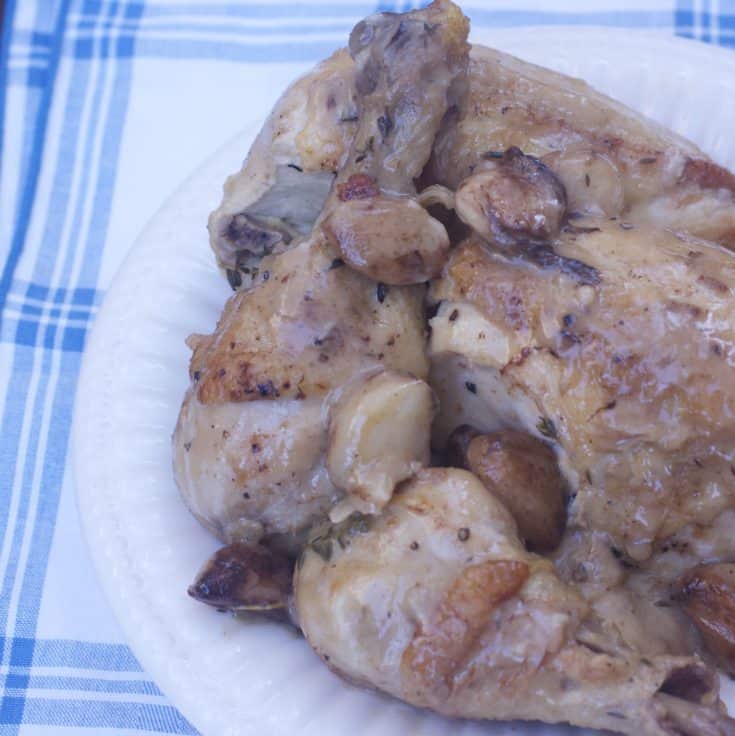 The forty cloves of garlic is the base for a bistro dish that coats the chicken in a smooth, flavorful and luxurious sauce.
Total Time
1 hour
30 minutes
Ingredients
3 heads of garlic, skins removed
2 tablespoons olive oil
1 3 ½-4 pound chicken, cut into eighths
1/4 cup flour
1 teaspoon salt
½ teaspoon pepper
3/4 cup chicken stock
3/4 cup white wine
2 tablespoons cognac
2 tablespoons flour
2 tablespoons heavy cream
Instructions
Heat olive oil heavy pan over medium high heat.
Mix flour, salt and pepper together and put on a plate. Dredge chicken in the flour mixture. Heat the butter and oil in a large pot or Dutch oven over medium high heat. Sauté the chicken in the fat, working in batches, until the chicken is brown on both sides.
Remove to a plate. Drop garlic in to the oil and sauté. Reduce heat to medium and cooking until evenly browned.
Add the chicken stock, wine and cognac and bring to a boil; scrape the bits off the bottom of the pan. Return the chicken to the pot. Cover and simmer over medium low heat for about 30 minutes, until all the chicken is cooked.
Remove the chicken to a platter and cover with foil to keep warm. In a small bowl, whisk 1/2 cup of the sauce and the flour together and then whisk it back into the sauce in the pot. Raise the heat to medium, add the cream and boil for a few minutes. Add salt and pepper to taste. Pour the sauce and the garlic over the chicken and serve hot.
Nutrition Information:
Yield:
4
Serving Size:
1 grams
Amount Per Serving:
Unsaturated Fat:

0g