Food For Talk & Julienne Smith

This week Julienne Smith joins us on Adventures In The Kitchen to share the benefits of family meals. She challenges us to a 30 day family meal challenge and provides us with a plan to make it happen. We will talk about her Food For Talk cards that help get the family talking.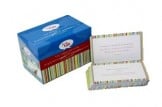 Join us Sunday, October 23 at 4 pm on KKLA 99.5 or tune in live at www.kkla.com.