Grilled Firecracker Chicken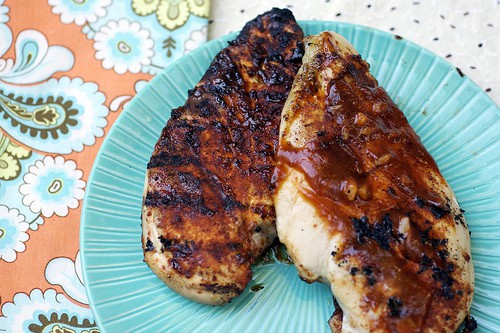 This Grilled Chicken with Fireworks Sauce has become my go to barbecue this summer. The sauce is sweet and slightly spicy making for a delicious addition to your sauce collection. I made it for a few get togethers with friends and even used the sauce for dipping a few homemade onion rings in.
We finally have had summer like weather here in southern California. Not that I was complaining. I was pretty happy with the cool summer we have been enjoying this year. But all good things must come to end so the saying goes. If you are enjoying one of the last weekends of summer with a barbecue make this sauce and see for yourself.
Spicy Dry Rub
2 tablespoon smoked sweet paprika
2 teaspoons brown sugar
2 teaspoons coarse salt
2 teaspoons freshly ground pepper
1/2 teaspoon dried thyme
1/4 teaspoon cayenne pepper
Grilled Chicken with Fireworks Sauce
by Cooking with Rachel Ray
4 servings
3 tablespoons vegetable oil, plus more for rubbing
2 garlic cloves, finely chopped
1/4 cup smoked sweet paprika
2/3 cup ketchup
Juice of 2 lemons (1/4 cup)
2 tablespoons frozen orange juice concentrate, thawed
2 tablespoons brown sugar
2 teaspoons Worcestershire sauce
2 teaspoons Dijon mustard
2 pinches of cayenne pepper
Salt and freshly ground pepper
2 whole skinless, boneless chicken breasts (about 2-1/2 pounds), pounded 1/2 inch thick
Preheat a grill to medium-hot or a grill pan to medium-low. Place the 3 tablespoons of oil in a medium saucepan over medium heat. Stir in the garlic and cook for 1 minute, then stir in the paprika and cook for 1 minute more. Add 1 cup of water and the ketchup, lemon juice, orange juice concentrate, brown sugar, Worcestershire sauce, mustard and cayenne pepper. Season the sauce with salt and pepper and simmer until slightly thickened, 8 to 10 minutes. Reserve half of the sauce to serve at the table.


Sprinkle the chicken breasts with the Spicy Rub on both sides. Grill for 3 minutes on each side. brush some of the sauce on both sides of the chicken and continue grilling until cooked through and still juicy, about 3 minutes more per side. Serve with the reserved sauce.