Feed Your Soul Friday Linky Party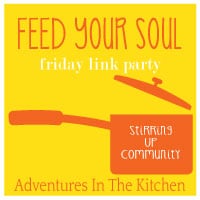 Food is a way we can express how much we care. When words fail, we show up with food. It seems like this holiday season, we are need to be together. We need to feed our souls. So let's do it together. I am launching a Feed Your Soul link party starting this Friday, December 21st.
We'll share creative ways we are reaching out into our community and fun ways to involve the kids.
I will pick several to feature in a post over the weekend.
If you'd like to see previous Feed Your Soul parties click here (Coming soon)
*The party post usually goes up live on Thursday evening between 7-8pm PST
Do you have something to share? Let us know how you feed the soul this week! If you have something to share with us on your blog, add your link to the current week's party. Just please be sure to:
1. Add the permalink to the specific blog post, not your general blog address in the MckLinky form below (need help with finding the permalink? click here to see a great post Darcy wrote on this and Tidy Mom linked to it!)
2. Include in your blog entry a link back to the party post on this blog! so that your readers can come and see what everyone else is loving today and have an opportunity to contribute! You can use the code below to add the banner to your posts or blog if you'd like.
3. Visit as many of the other participants as possible and leave comments! That's what makes a party fun!! No one likes standing alone waiting for someone to talk to them – right?
4. Contact me if you have any questions, problems or need help!