Eggs, Bacon and Hash Browns Please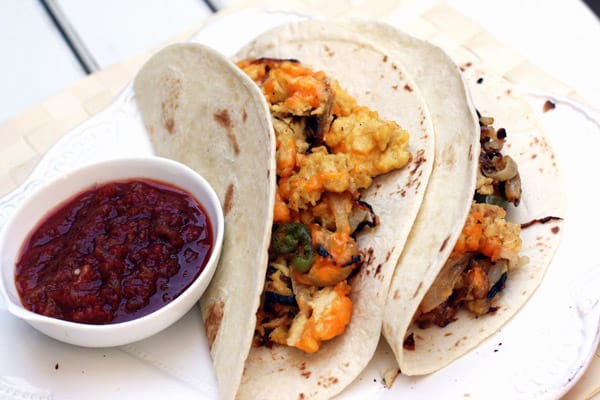 Breakfast is such an important meal. It fuels our body for the day. On the weekend, when I have more time I like to cook breakfast. My favorite is oven baked pancakes.
Lately though I have been trying more egg dishes. This week I went big layering breakfast in one bite in my Eggs, Bacon and Hash Brown Quesadilla.
Saute onions and then scramble the eggs into the pan.
Layer hash browns, eggs and bacon into a hearty fall breakfast for your family.
1 package of hash browns, cooked crisp
4 strips bacon, cooked crisp & crumbled
1 tablespoon butter
1 tablespoon olive oil
1/2 sweet onion thinly sliced
6 eggs
2 tablespoons milk
salt and pepper
1 hatch chile seeded and sliced
4 quesadilla's
Salsa
Mix eggs, milk, salt and pepper in a bowl.
Melt butter and olive oil in a large skillet over medium high heat. Place onions in the skillet and gently sautéed, turn heat to medium and cook 15 to 20 minutes until soft.
Pour egg mixture over onions and scramble eggs.
Lay down quesadillas. Top with hash browns and then eggs. Sprinkle bacon on top. Toss hatch chilies on (optional). Fold and serve with salsa on the side.