Christmas is next week. How did that happen? I have been cooking away and leading culinary team building's like a mad woman this month. Sunday I start one week off and can't wait. After catching up on some much-needed sleep I am looking forward to enjoying time with friends and family. I hope to squeeze in an end of year dinner party and these Duchess Potatoes will be on my menu!
Duchess Potatoes are perfect for your Christmas dinner! When I was growing up these were for fancy occasions. They are like twice baked potatoes, only they are piped into little puffs. They are crisp on the outside and soft on the inside.
It's fun to go fancy a few times a year. I love making my guests feel special. People can tell the difference between food quickly thrown together and dishes created with love.
These potatoes or little bites of heaven that are served with beef, chicken or seafood. You can make them ahead of time and reheat them before serving which is always a plus in my opinion!
Start by baking potatoes or peeling and boiling them until fork tender. Put through a ricer or food mill.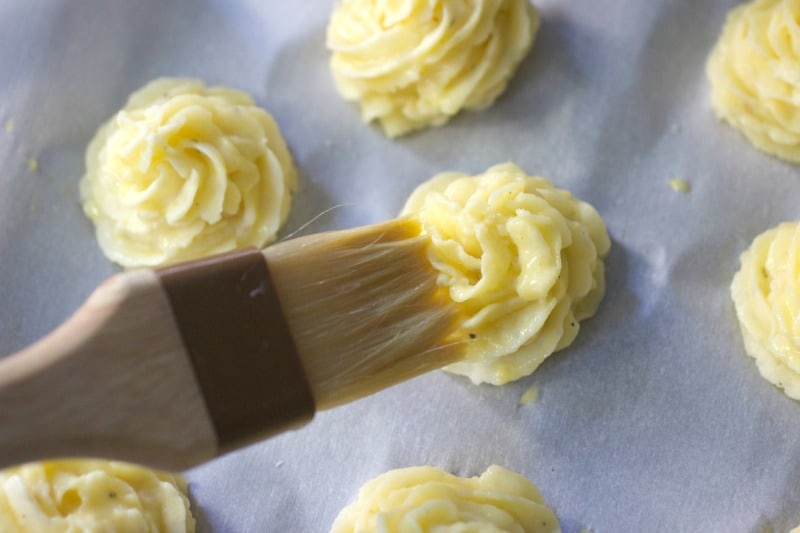 Mix together with butter and milk. Season them and then place in a pastry bag with a star tip. Pipe them onto a baking sheet lined with parchment. Freeze for about 15 minutes and then brush with a cream/egg wash.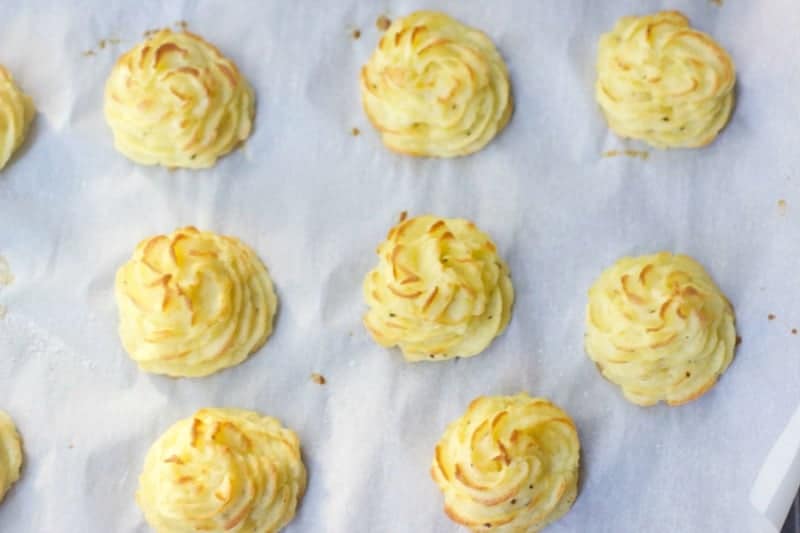 Bake them until the edges are brown.
If you try them this holiday season, snap a photo and share on our Facebook page   What are your big plans for Christmas? Who are you entertaining this year? Keep it simple while making your guests feel special. Savor the moments and be thankful. I am thankful for you visiting my site, trying my recipes, and letting me do what I love.
Print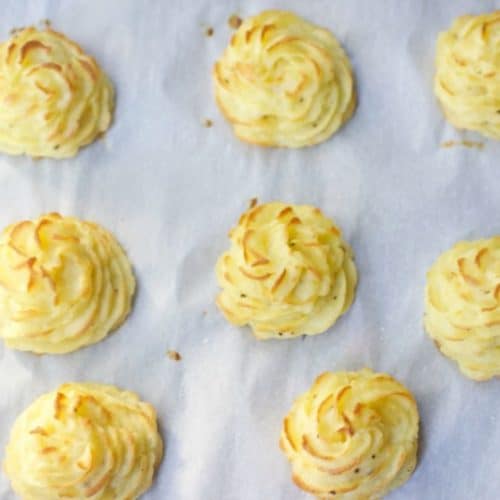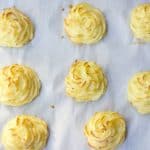 Duchess Potatoes
---
2 1/2

lb

. russet potatoes (about 4)

4 tbsp

. unsalted butter (softened)

2

egg yolks (plus 1 egg mixed with

1 tsp

. heavy cream, lightly beaten)
? tsp. freshly grated nutmeg
Kosher salt and freshly ground black pepper (to taste)
---
Instructions
Heat oven to 400°. Using a fork, prick potatoes all over; place on a baking sheet. Bake until tender, 1½ hours; let cool, then peel and pass through a food mill or ricer.
Mix potatoes, butter, yolks, nutmeg, salt, and pepper in a bowl; transfer to a piping bag fitted with a ¾" star tip. On a parchment paper-lined baking sheet, and working in a tight circular motion, pipe twelve 2½" cones about 2″ high. Brush with egg mixture; bake until golden brown, 40–45 minutes.
Category:

Side Dish

Cuisine:

American